Connecting MT4 to a Mobile Device
As people are becoming more dependent on electronic devices, many forex brokers now offer applications to support MT4 on mobile devices. The functionality of the MT4 application is similar to that of the desktop version. Traders can access charts, utilize technical analysis tools, and place and manage trades. While MetaQuotes currently supports only the Windows operating system (OS), third-party brokers have made Android and iPhone applications available. At the end of 2011, MetaQuotes announced it would soon be releasing applications for the iPhone operating system.

While most forex brokers do offer mobile apps, they do not always provide apps for all of the different operating systems. If the mobile app feature is a priority, confirm with a broker ahead of time that it will be able to support a particular operating system. Certain brokers charge a fee for the application, or charge for a license key, while others give it away. A quick call to a broker's customer service number, or an online chat, can provide details regarding operating systems and fees, if any. Specific installation instructions are typically provided on each supporting brokers' web site. (For related reading, see How To Pay Your Forex Broker.)
Expert Advisors
MT4's Expert Advisor (EA) program can be used to implement trading strategies and automate trading. The proprietary programming language is called "MetaQuotes Language 4," or MQL4. Traders can write their own custom indicators and/or strategies using the platform's "MetaEditor"feature. To open, click on "Tools" and select "MetaQuotes Language Editor," shown in Figure 18, or click on the "MetaEditor" icon
in the toolbar. This will open the programming environment.
While details regarding the creation and usage of MT4's Expert Advisors are outside the scope of this guide, helpful information can be found in the "MetaEditor" window by clicking on "Help" and selecting any of the subheadings under "MQL4 Community," including MQL4 Website, Book, Documentation, Articles, Code Base and Forum. This online community offers free support, and members can post questions such as, "How can I write an EA that will allow me to enter simultaneous buy and sell orders to capture a breakout?" and other community members can post responses. The "MQL4 Code Base" offers free EAs that other members have posted, including a description of the purpose and application of the code. (For related reading, see
Is Your Forex Broker A Scam?
)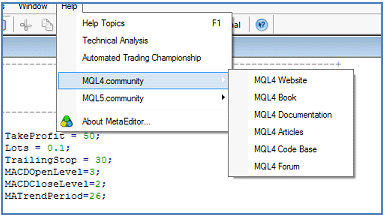 Figure 18: The MQL4 community provides support for MT4's proprietary programming language.
Once EAs have been written or otherwise acquired, they can be attached to any chart to perform a variety of functions, including technical analysis, as with indicators, or even trading automation. EAs, Custom Indicators, and Scripts (programs that are executed on request that are intended to perform a single action) can be added to a chart by clicking-and-dragging, or by double-clicking the desired item within the "Navigator" window, as shown in Figure 19.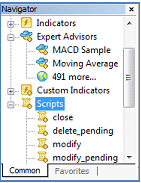 Figure 19: Double-clicking on an EA, indicator or Script will apply it to the active chart. Traders can also simply click and drag the item onto a chart.

In addition to the "Help" menu in the MetaEditor window, clicking on "Help" in the MT4 window and selecting "Help Topics" will open the MT4 User Guide, which has lots of documentation regarding the creation and application of Expert Advisors, Custom Indicators and Scripts.
As for New Zealand dollar, we have a broken ascending channel, which has been already tested once by a currency pair. Let's try to sell an asset for a second time away from this broken channel...
---
Most Asian stock markets are down on the day, disappointing earning results added to Yen strength weighed on Japanese markets. Oil prices are higher and the front end WTI future is comfortably above USD 44 per barrel...
---
On behalf of our management team we would like to wish all our clients and their families worldwide best wishes for the holidays. Our trading and customer service hours during the holiday period are illustrated below...
---