May 12, 2015
---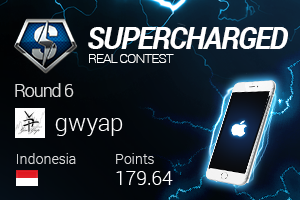 While 1307 participants are still competing for our Tesla Model S and other striking prizes, we are happy to congratulate our Overachiever and a master of EUR/USD currency pair - Mr. Yohanes Prayoga from Indonesia who won iPhone 6 in the 6th Round of OctaFX Supercharged real contest.
Mr. Yohanes Prayoga uncovered his strategy and shared the experience of his participation in the contest in our regular column "success stories". Don't miss a chance to put on notice some tips from our winner.
"The contest is very challenging for me, but it s a good opportunity to test my trading abilities. My own trading system is called G2S ("Gara-Gara Stress"), which proves to work fine for me. I don't change my strategy, and I work only during my trading hours, since self-discipline is important in trading! My biggest accomplishment was to earn $ 20,000 with $ 100 initial capital. While my biggest loss was $ 1,000. The next aim, which I hope to achieve in the nearest future is to win Tesla. And lastly, I would like to give advice to the traders. Do not chase a contest! Devise a system and follow it, but do obey the rules of the contest. And finally you will win whatever you aim at!"
We thank Mr. Yohanes Prayoga for his tips! The new iPhone 6 will be sent to Indonesia to his new owner. Follow us on Facebook to see the pictures of the lucky winner! Every trader is welcomed to take part inOctaFX Supercharged real contest and compete for our 10 top-notch prizes including Tesla Model S, Smart Fortwo and Renault Twizy!
You have a chance to win our prizes – trade with OctaFX, become a master of Forex trading!
Publication source
---
OctaFX information
OctaFX reviews
December 9, 2016
Find out how traders of Grand Capital finished the last week of fall and started the first week of winter. As always, the numbers don't fail to impress. Last week's maximum deposit growth was $109 360,00...
---
December 8, 2016
Orbex, an innovative leader in online forex trading, recommits to another year of CrossFit Limassol sponsorship and is confirmed as the main sponsor of the flagship athletic event of Cyprus, WodWars Europe Competition, which will be held December 10-11...
---
December 8, 2016
Leading US forex brokerage FXCM announced on Monday it has launched Live Trading Integration with algorithmic trading platform QuantConnect, which is cloud-based. At present, only the broker's US clients are able to use this service...
---