May 12, 2015
---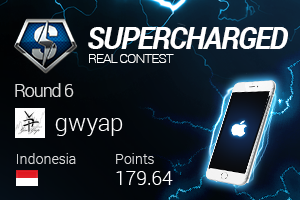 While 1307 participants are still competing for our Tesla Model S and other striking prizes, we are happy to congratulate our Overachiever and a master of EUR/USD currency pair - Mr. Yohanes Prayoga from Indonesia who won iPhone 6 in the 6th Round of OctaFX Supercharged real contest.
Mr. Yohanes Prayoga uncovered his strategy and shared the experience of his participation in the contest in our regular column "success stories". Don't miss a chance to put on notice some tips from our winner.
"The contest is very challenging for me, but it s a good opportunity to test my trading abilities. My own trading system is called G2S ("Gara-Gara Stress"), which proves to work fine for me. I don't change my strategy, and I work only during my trading hours, since self-discipline is important in trading! My biggest accomplishment was to earn $ 20,000 with $ 100 initial capital. While my biggest loss was $ 1,000. The next aim, which I hope to achieve in the nearest future is to win Tesla. And lastly, I would like to give advice to the traders. Do not chase a contest! Devise a system and follow it, but do obey the rules of the contest. And finally you will win whatever you aim at!"
We thank Mr. Yohanes Prayoga for his tips! The new iPhone 6 will be sent to Indonesia to his new owner. Follow us on Facebook to see the pictures of the lucky winner! Every trader is welcomed to take part inOctaFX Supercharged real contest and compete for our 10 top-notch prizes including Tesla Model S, Smart Fortwo and Renault Twizy!
You have a chance to win our prizes – trade with OctaFX, become a master of Forex trading!
Publication source
---
OctaFX information
OctaFX reviews
January 24, 2017
Congratulations to Mohammad Agus Soleh Kafabillah, the winner of the Get BMW X3 promotion! On the 19th of January, 2016 Mr. Mohammad has received his prize, premium and absolutely unique BMW X3 in Jakarta, Indonesia. A prize worth any gentleman...
---
January 23, 2017
In November 2016, the #FXTMbasejump project concluded with Red Bull athlete, Valery Rozov, conquering a world-record in BASE jumping. The jump was performed from mount Cho Oyu in China at 7700metres, following a series of trainings and expeditions in various countries around the world.
---
January 23, 2017
FXTM would like to inform its clients that in observance of Australia Day in Australia our trading schedule will be subject to change on Thursday, January 26th, 2017...
---