May 13, 2015
---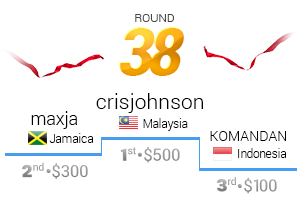 Great news - four more traders now can pride themselves being OctaFX champions! Round 38 of OctaFX Champion demo contest is over. Our four luckiest traders can now share $1000 prize fund according to their places. The contest that has turned into a regular and highly participated one, still invites new traders to join. Now we greet our Round 38 champions, who became OctaFX Hall of Famemembers:
1st place with the award of 500 USD goes to Mr. Crisojohennus Egi Bin Johnson from Malaysia
2nd place with the award of 300 USD goes to Mr. Carvel Gabbidon from Jamaica
3rd place with the award of 100 USD goes to Mr. Achmad Dermawan Simatupang from Indonesia
The last runner in the contest, Mr. Andrey Gladkih from Hungary is granted 100 USD
Demo accounts are great tools to learn and excel your trading abilities. You can practice trading using this contest before going real! The contest is not an ordinary learning tool, but also and exciting opportunity to share your experience with other traders.
Just in several days we will publish interviews with our Round 38 winners, and we hope that some revealing answers can help you to become a new champion. We thank all traders for participation, and anticipate new success stories in the next round. Take your chance and register for OctaFX Champion demo contest!
Become a Champion with OctaFX!
Publication source
---
OctaFX information
OctaFX reviews
October 25, 2016
FXTM is overwhelmingly proud to announce that legendary BASE jumper and Red Bull Athlete, Valery Rozov has broken another world-record by performing a jump from the highest exit point in mount Cho Oyu, China (7700m), going even higher than his previous record-breaking jump from the Everest Massif (7220m) in 2013...
---
October 24, 2016
FortFS announces the start of the promo-action PROFIT BONUS which is designed to boost your profits. Starting from 24 October until 25 November 2016 inclusively every profitable trade will be rewarded with 2% of the resulting profit...
---
October 24, 2016
FBS company extends its heartfelt condolences to the families of the victims and all the people of Indonesia. We want you to know that you are not alone. It is good when brothers and sisters come to help you out when a disaster strikes...
---