June 29, 2015
---
Dear clients and partners,
We are providing you with the results of a study of the influence of the price of oil (Brent) on exchange rates, which was conducted in May 2015 by EXNESS analyst Sergei Kochergin.
The study included the world's largest exporters of crude oil: Saudi Arabia, Russia, Canada, Nigeria, etc. For each of these countries, we present both the changes in the country's international reserves as well as the correlation between the currency's yield and the price of oil. To create the infographic, we analyzed information about changes in quotes for currency pairs and Brent oil for the past 15 years.
In practice, over the past 15 years oil prices most strongly affected the value of the Canadian dollar, the Malaysian ringgit, the Norwegian krone, the Mexican peso, Brazilian real, and the Russian ruble. In countries where the exchange rates of national currencies have been smoothed out by interventions by central banks, the influence of the price of oil on the national currency's exchange rate proved to be minimal.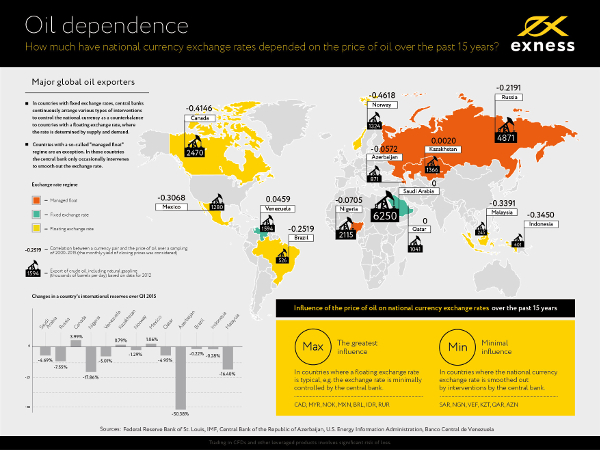 Publication source
---
EXNESS information
EXNESS reviews
September 30, 2016
We would like to invite you to take part in the FIBO Group, Ltd "Trader's Triple Chase" contest that will fit the traders with different backgrounds. It is free to participate in the contest, its first round starts every week and the real money prizes are granted weekly...
---
September 29, 2016
We have decided to combine the most relevant topics at the moment and we are glad to invite you to the Oil, Gold and the US Presidential Elections seminar...
---
September 29, 2016
Modern infrastructure is a major aspect for any company. That is why to assure comfortable environment for both employees and clients, Grand Capital moved to a new spacious office, which is located in walking distance from Moskovkie Vorota subway station...
---