June 29, 2015
---
Dear clients and partners,
We are providing you with the results of a study of the influence of the price of oil (Brent) on exchange rates, which was conducted in May 2015 by EXNESS analyst Sergei Kochergin.
The study included the world's largest exporters of crude oil: Saudi Arabia, Russia, Canada, Nigeria, etc. For each of these countries, we present both the changes in the country's international reserves as well as the correlation between the currency's yield and the price of oil. To create the infographic, we analyzed information about changes in quotes for currency pairs and Brent oil for the past 15 years.
In practice, over the past 15 years oil prices most strongly affected the value of the Canadian dollar, the Malaysian ringgit, the Norwegian krone, the Mexican peso, Brazilian real, and the Russian ruble. In countries where the exchange rates of national currencies have been smoothed out by interventions by central banks, the influence of the price of oil on the national currency's exchange rate proved to be minimal.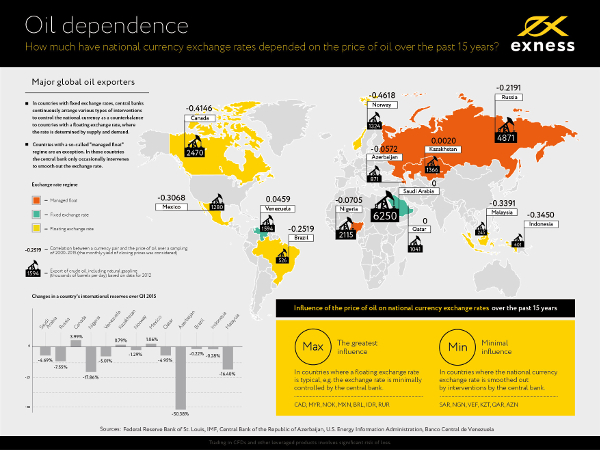 Publication source
---
EXNESS information
EXNESS reviews
October 27, 2016
The United States will release the first estimate of Q3 GDP on Friday, October, 28 at 15:30 EET. The higher American economic growth is, the bigger the odds of the Federal Reserve's rate hike in December get and the stronger the US dollar becomes versus other currencies...
---
October 27, 2016
Due to the end of Daylight Savings Time taking place on October 30th in Europe and November 6th in the USA, the FXTM trading schedule will be changed in order to accommodate for the time difference...
---
October 26, 2016
We are pleased to announce the launch of FxPro's new Telegram channel! Telegram is a messaging app, focused on speed and security, available across many platforms including desktop, mobile, and web versions...
---