June 29, 2015
---
Dear clients and partners,
We are providing you with the results of a study of the influence of the price of oil (Brent) on exchange rates, which was conducted in May 2015 by EXNESS analyst Sergei Kochergin.
The study included the world's largest exporters of crude oil: Saudi Arabia, Russia, Canada, Nigeria, etc. For each of these countries, we present both the changes in the country's international reserves as well as the correlation between the currency's yield and the price of oil. To create the infographic, we analyzed information about changes in quotes for currency pairs and Brent oil for the past 15 years.
In practice, over the past 15 years oil prices most strongly affected the value of the Canadian dollar, the Malaysian ringgit, the Norwegian krone, the Mexican peso, Brazilian real, and the Russian ruble. In countries where the exchange rates of national currencies have been smoothed out by interventions by central banks, the influence of the price of oil on the national currency's exchange rate proved to be minimal.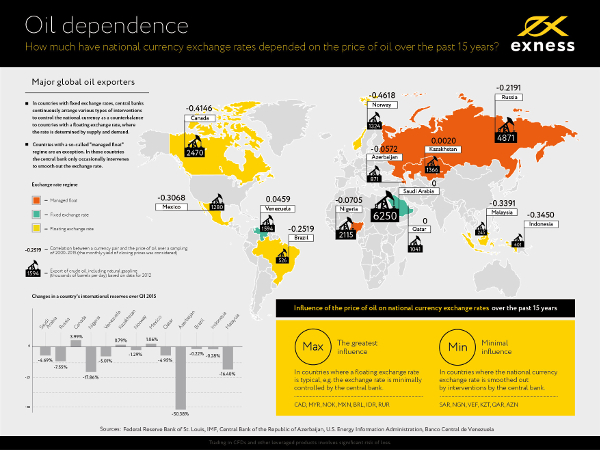 Publication source
---
EXNESS information
EXNESS reviews
January 20, 2017
The past year was very successful and productive for Fort Financial Services and we are pleased to share with you our achievements for the year 2016...
---
January 19, 2017
It is with great pride that today, 17th January 2017, we inform our clients and partners that XM has been included in the WF100 (World Finance 100) for the year 2016...
---
January 19, 2017
The European Central Bank's policy is behind most trends of the single currency. The ECB extended its bond-buying program until December 2017 at its last meeting. This decision provoked a selloff in the euro...
---