June 29, 2015
---
Dear clients and partners,
We are providing you with the results of a study of the influence of the price of oil (Brent) on exchange rates, which was conducted in May 2015 by EXNESS analyst Sergei Kochergin.
The study included the world's largest exporters of crude oil: Saudi Arabia, Russia, Canada, Nigeria, etc. For each of these countries, we present both the changes in the country's international reserves as well as the correlation between the currency's yield and the price of oil. To create the infographic, we analyzed information about changes in quotes for currency pairs and Brent oil for the past 15 years.
In practice, over the past 15 years oil prices most strongly affected the value of the Canadian dollar, the Malaysian ringgit, the Norwegian krone, the Mexican peso, Brazilian real, and the Russian ruble. In countries where the exchange rates of national currencies have been smoothed out by interventions by central banks, the influence of the price of oil on the national currency's exchange rate proved to be minimal.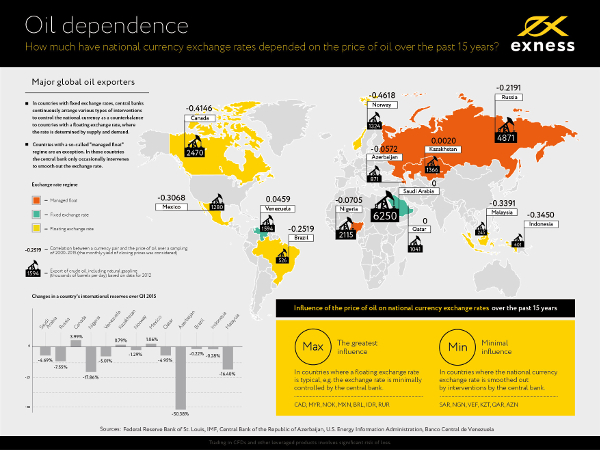 Publication source
---
Exness information
Exness reviews
February 27, 2017
Grand Capital organizes on-site training and holds webinars for traders on a regular basis. Now we provide a new format of learning - video lessons, which include 79 Forex trading lessons and 52 Binary Options trading lessons...
---
February 27, 2017
This year XM will be once again Gold Sponsor of the prestigious international event FxCuffs, which hosts some of the largest and most acknowledged financial institutions from Central and Eastern Europe, as well as from overseas...
---
February 24, 2017
CFD is a derivative financial instrument, and it is an abbreviation for Contract for Difference. CFDs are of interest to traders who want to significantly boost the amount and quality of their investments...
---