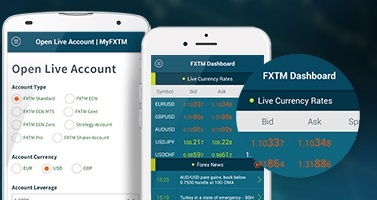 September 6, 2016
---
Traders and investors around the world have embraced theВВВ ForexTime AppВВВ since its launch in October 2015. Now, in line with FXTM's unbendable commitment to continuously improve customer experience, this latest development will redefine trader possibilities. We have integrated a fully operational client area, completely managed within the already powerful and exclusively developed app, igniting the next generation of forex trader experience.
FXTM is constantly on the lookout for ways to provide clients with even more innovative and cutting-edge trading solutions, so be sure to keep an eye out for upcoming exclusive features.
ClickВВВ hereВВВ to download the ForexTime App directly on your device.
Not trading with the Global Forex authority?ВВВ Click hereВВВ to open your account today.
Get ready to experience ultimate power at the palm of your hand! More features that give you complete control whether you are on your smartphone or your tablet:
Instant Registration:ВВВ New clients can now register on-the-go. The new ForexTime App allows you to fill the registration form straight from your mobile device.
Uploading documents has never been easier: Use your mobile phone to get your account approved directly from the application; take photos of the required documents and upload them straight to the app.
Control your funds: Deposit, withdraw and transfer to and from your trading account.
Join FXTM Invest: Become a Strategy Manager or an Investor and manage your trading strategy and investing anywhere, any time. ВВВ 
Download your Trading Platform: Whether you are using iOS or Android, you can download your trading platform and trade instantly.
Instant Notifications: Get notifications on upcoming seminars, promotions and contests and register straight away.
And much more!
Publication source
---
FXTM information
FXTM reviews
December 5, 2016
We are happy to announce implementation of the Client Cabinet updated version. New version has a responsive design that allows tablets, smartphones and other mobile devices users use all Client Cabinet options...
---
December 5, 2016
FXTM is excited to welcome the holiday season with its clients by offering a fantastic deposit bonus available in the run-up to 2017...
---
December 5, 2016
In light of our previous news regarding the Italian Constitutional Referendum we would like to inform you that the margin requirement on all instruments have been automatically readjusted in accordance with the previous leverage settings of each client's accounts and financial instruments...
---