The US dollar was traded upwards on Wednesday against most major currencies despite some decrease of housing market data. The dollar was in demand as a defensive asset amid rising geopolitical tensions in the Middle East and fears of military actions against Syria. According to some data the attacks on selected targets in Syria with cruise missiles can be made on the night of Thursday to Friday. U.S. Defense Secretary said earlier that the U.S. military is ready to act and waits for the president's order. Meanwhile, the officials of Syria provided UN inspectors with the evidence of non-use of chemical weapons.
Pending Home Sales Index, a leading indicator at the real estate market, dropped in July for the second month in a row. According to the National Association of Realtors (NAR) - Pending Existing Home Sales Index fell by 1.3% compared with the prior month to 109.5 in July while a slight growth was expected. Continuing growth of rates on mortgage loans has a negative impact on housing market recovery. High prices and a low housing supply in some parts of the country also put pressure.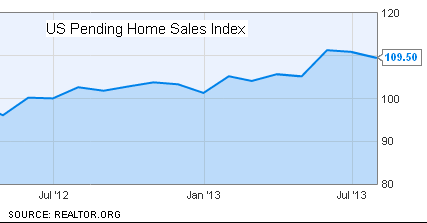 The euro was traded downwards amid some decrease of consumer sentiment in Germany. According to the GfK report a key Consumer Climate dropped to 6.9 p. in September Vs 7.0 p. in August. It was the first decrease in eight months after reaching more than 6-year high in August as households expect economic recovery to be slow in the nearest months. Retail sales in Italy also turned out a little worse than expected and dropped by 0.2% m/m in June against the expected growth by +0.1%.

The pound recovered almost all its losses of the day after the speech of the Bank of England governor Mark Carney which seemed to the market participants less inclined to soft monetary policy than it was expected. Carney said that there were signs of optimism on the back of a large-scale British economic recovery. He promised further measures on stimulating of the economy should be done if rising interest rates threaten its still weak recovery.
The Bank of England will soften requirements concerning the liquidity for banks. Besides, Carney marked that reaching 7% unemployment didn't guarantee an automatic increase of interest rates – the Bank of England would also consider other factors. Retail sales growth data also supported the pound. CBI Realized Sales in August reached its high since November, 2012 at +27 Vs +17 in July having significantly exceeded the forecast of +20.
The Australian dollar updated more than 3-week low on Wednesday against the US dollar amid other Asian currencies decrease because of growing fears of soon attack on Syria. Besides, Construction Work Done in Australia fell by 0.3% in the second quarter against the expected growth by 1%.