August 30, 2013
---
The US dollar showed a significant growth on Thursday, the highest for almost 4 weeks according to the dollar index after the publication of strong US GDP data for the second quarter and weak German data. US Unemployment Claims decreased by 6 thousand last week to 331 thousand, which almost coincided with the expectations (332 thousand). It signals improvement at the US labor market.
According to the US Department of Commerce GDP Second Release for the second quarter was raised up to 2.5% at an annual rate against the initial release of 1.7%. The reading was expected to rise only to 2.2%. Growth rates acceleration was caused mainly by the upwards revision of exports and capital investments. Consumer spending was remained unchanged and public spending decreased more than estimated at first and remained the main source of pressure on economic growth.
The USA and Euro-Zone quarterly GDP growth rates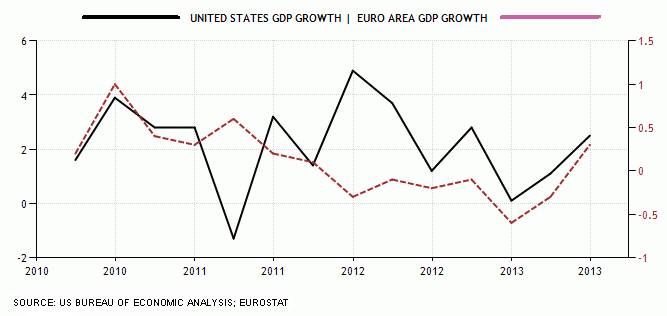 FOMC Member Jeffrey Lacker said on Thursday that the Fed jeopardized its independence using its balance to support certain industries. Labour market has improved significantly since the beginning of the last bond purchase round and it is a good argument to start reducing the purchase, he said.
The euro reached 2-week low on Thursday Vs the dollar amid a weak report on German labour market, which leveled the reports that showed improvement of French Business Confidence and Italian Consumer Confidence. Unemployment Change in Germany grew by 7 thousand in August against the expected decrease by 5 thousand. German annual inflation dropped for the first time in four months and accounted for 1.5% in August Vs 1.9% in July, which turned out lower than forecasted 1.7%.
The pound also weakened moderately but it was traded a little better than the euro. The Bank of England chairman Mark Carney said on Thursday that devaluation of the currency was not a way to prosperity. He added a fledgling recovery in the U.K. economy appears to have "some life".
The yen fell amid a weak retail sales report. Retail sales in Japan dropped by 1.8% in July compared with June, which exceeded the expected decrease by 1.3%. Also the yen decrease was influenced by some weakening of tensions around the situation in Syria after the US president Barack Obama had said that he hadn't made a decision on Syria military attack yet and had no desire to involve the country into long-term conflict. The probability of the operation against Syria has slightly fallen recently as the UK and France expressed their desire to wait for the results of the UN expert examination. The experts' opinion about using chemical weapon in Syria is expected to become known on Friday.
New Zealand dollar was traded downwards on Thursday despite Business Confidence data. ANZ Business Confidence fell slightly in August from July's 14-year high but remained rather high as New Zealand economy continued showing strengthening signs. Australian dollar also dropped. HIA New Home Sales decreased for the first time in five months according to HIA data. Canadian dollar fell amid Canada's current account deficit growth that widened in the second quarter to 14.6 billion Canadian dollars against 13.4 billion in the first quarter.
Publication source
---
MasterForex information
MasterForex reviews
September 26, 2016
The FED did not raise interest rates last week, as it was anticipated by many market participants. It seems like the FED decided to go with status quo and wait until a new American president is elected. We are waiting for a rate hike to take a place in December as it would be logical and a well justified thing to happen...
---
September 26, 2016
Monday's US presidential debate will probably break a new record, not in the S&P 500, but the number of viewers which according to media analyst could reach over 100 million Americans, surpassing Carter-Reagan debate in 1980 which attracted 80.6 million viewers...
---
September 23, 2016
The market is in need of a new narrative. The Fed meeting in December is too far off and for now, the US election is not something that entices excitement. With central banks on hold, markets are pushing the envelope in terms of risk...
---