2 September, 2013
The US dollar was traded slightly upwards on Friday against most major currencies amid mixed macrostatistics. Consumer Confidence data turned out better than expected, PMI coincided with the forecasts but Personal Income and Spending report turned out worse. Revised U. of Michigan Consumer Sentiment for August was reconsidered upwards up to 82.1 against preliminary estimates of 80 and the forecast of 80.5. However the index fell significantly in comparison with the revised July reading 85.1 which was the highest for 6 years.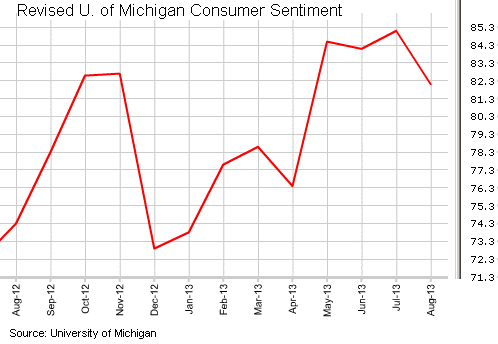 Chicago PMI for August met the expectations and amounted to 53 compared with 52.3 in July. Personal Income growth rate in July slowed down more than expected from 0.3% to 0.1% (Consensus 0.2%); Personal Spending also increased only by 0.1% although a growth by 0.3% was expected. The situation with Syria is delayed and becomes more uncertain. President Obama said on Saturday that would ask the Congress to approve a military attack against Syria and that such operation could be held any time. The Congress is due to reconvene only in a week, 9 September.
By the end of the week the dollar had shown the highest growth for past 8 weeks, it had risen by 0.90% according to the dollar index. The dollar grew Vs all major currencies except the yen (-0.54%). The highest growth was shown against the Australian dollar (+1.37%), the euro (+1.22%), Swiss franc (+0.94%) and New Zealand dollar (+0.90%); less growth was shown Vs British pound (+0.47%) and Canadian dollar (+0.43%). By the end of the month the dollar's growth had turned out less significant than even for the last week – it grew only by 0.47% according to the dollar index and showed growth against all major currencies except the pound.
This week as the first week of the month will be saturated with important events. There will be meetings of five major central banks of the world (Reserve Bank of Australia – on Tuesday, Bank of Canada – on Wednesday, Bank of Japan , Bank of England and ECB – on Thursday), there will be a release of PMI, GDP data, industrial output, retail sales, trade balance and labour market data. No changes of monetary policy from any central bank are expected but as always any surprises can be expected from the Central Bank of Australia. Besides, ECB Press Conference on Thursday will not be left without attention. The ECB is expected to reveal the details of its plans concerning easing of credit terms for small and medium-sized companies and also of a possible publication of ECB meeting minutes.
In the euro-zone there will be a release of manufacturing PMI on Monday and Service PMI – on Wednesday. Also the second estimate of the GDP growth (no changes are expected) and retail sales will be released on Wednesday. In Germany Factory Orders will be released on Thursday and industrial output and trade balance – on Friday. A decrease of both Factory Orders and industrial output is expected after a significant growth previous month which distorted the results a little.
In the UK during the first three days of the week Manufacturing, Construction and Service PMI will be published. A slight growth except service sector is expected. On Friday industrial output and trade balance data will be released. In Switzerland GDP for the second quarter will be released on Tuesday and inflation and industrial output data – on Friday. In Australia retail sales and current account will be released on Tuesday; GDP for the second quarter – on Wednesday and trade balance – on Thursday. In Canada trade balance will be released on Wednesday and labour market report – on Friday.
In the USA (and Canada) it is a Bank Holiday on Monday and some data (ADP, Crude Oil Inventories) will be released a day later. On Tuesday and Thursday respectively the most important ISM Manufacturing PMI and Non-Manufacturing PMI will be released. A decrease of indexes is expected after reaching many-month highs. On Tuesday Construction Spending will be published and on Wednesday – trade balance and Beige Book, on Thursday - ADP Employment Change and factory orders. And traditionally the first week of the month will be finished by the US Non-Farm Payrolls – it will be one of the last important reports which will be published before the Fed meeting 17-18 September and which will be used by the Fed for taking its decisions.
---
Source link
---
ECB Is Ready To Take Drastic Actions
On Thursday March, 13 the US dollar increased vs. the euro, but decreased vs. the yen and major commodity currencies amid strong US data. The euro dropped after Draghi
The US dollar Continued to Fall
On Monday the US dollar was traded with fall Vs the most major currencies after the release of weak Non-Farm Payrolls, but rose Vs the pound, and almost didn
---