The pound grew on Monday after the release of manufacturing PMI. Manufacturing PMI in the UK rose in August up to 57.2 p. from 54.8 p. in July – to the highest reading for almost 2.5 years. A growth only to 55 p. was expected. Manufacturing PMI has been growing for seven months in a row in the UK. PMI growth can justify GDP growth rate acceleration in the third quarter.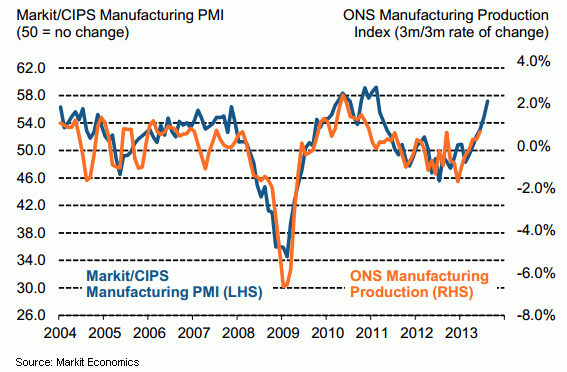 It was a Bank Holiday on Monday in the USA and Canada. The dollar was traded differently – it weakened against the pound, AUD and NZD and partially rose against other major currencies having shown the highest growth against the yen. The yen weakened significantly amid the decrease of risks connected with Syria and stock indexes growth. US military action against Syria seems to be delayed. Past weekend Barack Obama said that he would ask the Congress to approve military actions against Damask. The uncertainty about the attack on Syria lowers the demand on defensive assets such as the yen and franc.
Swiss franc also followed the yen. The pressure was also put by the manufacturing PMI decrease. Manufacturing PMI in Switzerland dropped in August more than expected to 54.6 p. compared with 57.4 p. in July and against the forecast of 55.2 p. Besides, the head of the Swiss National Bank (SNB) Thomas Jordan said on Monday in the interview to Berner Zeitung that the Swiss franc was still overestimated and SNB would keep its limit for EURCHF as long as it would be necessary.
The euro had almost no reaction on manufacturing PMI growth in the euro-zone which exceeded the expectations and was traded slightly downwards. Euro-zone manufacturing PMI was revised up to 51.4 p. in August from the preliminary reading of 51.3 p. while no changes were expected. In July the index was 50.3 p. The index has been recording an increase for four months in a row and has reached the highest level since June, 2011. National indexes PMI grew in all euro-zone countries except France and Greece.
Australian dollar rose amid Chinese manufacturing PMI growth. Official manufacturing PMI in China released on Sunday grew to 51 p. against 50.3 p. in July having exceeded the forecasts. It may indicate that China's economic growth rate in the third quarter can be a little higher than expected. HSBC Final Manufacturing PMI rocketed to 50.1 p. in August – the highest reading in 4 months. Besides, Building Approvals in Australia grew by 10.8% in July having exceeded the expectations 2.5 times.