The Australian dollar grew after the decision of the Reserve Bank of Australia to keep the rate unchanged at 2.50% despite weak retail sales and current account data. RBA rate statement was less mild than expected, which lowered the expectations that the central bank would continue further interest rate decrease. The central bank took a waiting attitude after eight decreases of the rate since 2011. RBA will continue estimating the outlook and correcting the policy necessary for a stable demand and inflation growth, - said RBA governor Glenn Stevens.
Retails sales in Australia grew only by 0.1% in July while its growth by 0.4% was expected. Current Account deficit rose by 7% in the second quarter up to 9.4 billion dollars, which exceeded the forecasted growth to -8.5 billion. Besides, prior quarter data were revised for the worse.
The US dollar was traded slightly upwards on Tuesday amid a positive report on US manufacturing PMI growth to its high since June, 2011. ISM Manufacturing PMI rose up to 55.7 p. in August from 55.4 p. prior month while its decrease to 54.0 p. was expected. New orders, inventories and prices grew while production and employment dropped. Another report of the US Department of Commerce showed that construction costs growth increased by 0.6% in July for a month having exceeded the expected growth by 0.4%.
ISM Manufacturing PMI and Euro-Zone Business Climate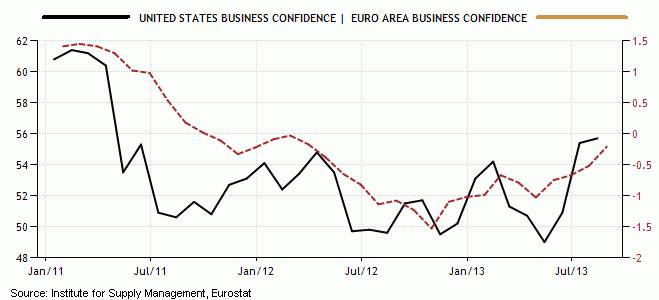 The euro was traded slightly downwards on Tuesday continuing the decrease of prior days. Euro-zone producer price index has shown its moderate acceleration for two months in a row. Producer price index in the euro-zone rose by 0.3% in July Vs June against the forecasted growth by 0.1%. At the same time Spanish labour market data turned out a little worse than expected – unemployment rate didn't change last month while its drop by 5.2 thousand was expected.
The pound grew after UK construction PMI report that showed its growth to the highest readings for almost six years but then it lost all the growth. Construction PMI rose to 59.1 p. in August from 57 p. in July while no changes were expected. Construction PMI growth is another sign that UK economic recovery accelerated in the third quarter.
The yen dropped to a month low Vs the dollar amid strong US data and Japanese stock market growth which rose on Tuesday according to Nikkei 225 by 3%. However, the yen was rising shortly on Tuesday after the incident that reminded that the military operation against Syria was just delayed. Some mass media reported on Israel's ballistic missile tests in the Mediterranean. Meanwhile, both parties leaders in the US Congress supported on Tuesday a military attack on Syria. Earlier the president was supported by John Boehner, Speaker of the US House of Representatives.