The US dollar was traded downwards on Monday against most major currencies (except the yen) amid no any significant macrostatistics and continuing to recover Friday weak labour market data that lower the possibility of asset purchase reduce start at the nearest FOMC meeting.
Meanwhile, PIMCO's Bill Gross is sure of the Fed to start tapering off QE despite disappointing labour market report. Most experts polled by Bloomberg last week also expect a reduction of monthly asset purchase of $10 billion at the FOMC meeting on September 17-18.
The pound reached 12-week high against the dollar and the euro –the highest reading of September on the back of also almost empty calendar. George Osborne, Chancellor of the Exchequer announced that British economy had passed a crucial point, which allowed the government to continue implementing economy measures. Sentix Investor Confidence reached more than 2-year high of +6.5 and exceeded zero point that separated optimism from pessimism – for the first time since July, 2011.
Sentix Investor Confidence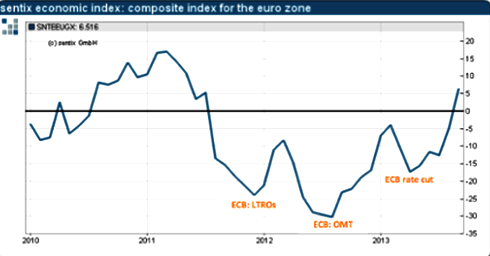 The Bank of France raised on Monday its estimate of French economic growth in the third quarter to 0.2% q/q against 0.1% before. Bank of France Business Sentiment reached almost 2-week high in August at 97 against 95 in July.
Japanese yen weakened on Monday amid the news on Saturday of Tokyo hosting summer Olympic Games 2020, which may have a beneficial effect on Japanese economic growth. Hosting Olympic Games can favour construction and influx of tourists to the country and also facilitate implementing Shinzo Abe's plans. Chinese and Japanese data also had a positive effect. Japanese stock index Nikkei 225 which is recently closely correlated with USDJPY grew by 2.5% and reached monthly high.
Japanese final GDP growth data for the second quarter were raised from 0.6% to 0.9% at a quarterly rate and from 2.6% to 3.8% at an annual rate. As a result the Japanese economy showed the highest half year growth for almost three years, which proves that Prime Minister Shinzo Abe's policy, which is aimed to economic growth stimulation, is right.
The Australian dollar reached 6-week high Vs the dollar after Chinese trade balance data released on Sunday had showed trade balance surplus by 60% in August to $28.5 bln compared with $17.8 bln this July. The exports increased by 7.2% in August in comparison with the same period last year, which turned out better than Consensus 5.5%. The imports rose by 7% at an annual rate. The data indicate a stable high PMI in Chinese economy. Besides, Home Loans growth data in Australia in July turned out better than expected.
The Canadian dollar continued Friday's growth and rose to 3-week high on Monday Vs the dollar amid positive housing market data which followed a strong employment report on Friday. Building Permits in July grew by 20.7% m/m up to record 7.99 bln Canadian dollars, which exceeded the expectations almost 5 times. Growth rates turned out the highest for more than two years.
Building Permits in Canada