September 11, 2013
---
The US dollar was traded differently on Tuesday; it fell against commodity currencies and the pound and grew against the yen and Swiss franc and almost didn't change according to dollar index. Some pressure was put by job openings data from the Bureau of Labour Statistics that dropped by 180 thousand in July to 3.69 million against 3.87 million prior month. The reading has been falling for two months in a row. NFIB Small Business Index also dropped to 94 in August against 94.1 in July although its growth was expected.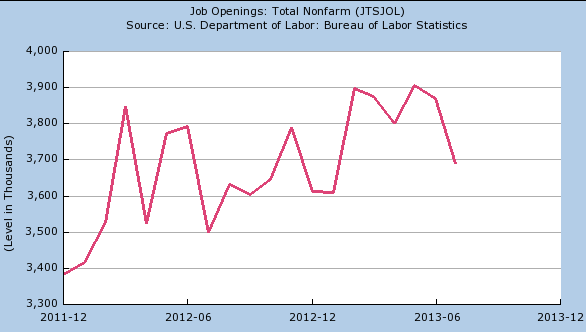 Defensive currencies such as the yen and Swiss franc and also gold fell on Tuesday after the USA president Obama had agreed to consider Russian plan on Syria's transfer its chemical weapon under international control, which may significantly reduce the possibility of attack on Syria at the nearest time. Obama said that he asked the Congress to delay voting on military attack in Syria.
The yen fell to more than 7-week low against the dollar, which was favored by the published BoJ meeting minutes of August that showed central bank's firm intention to continue monetary policy easing.
Chinese positive data released on Tuesday that exceeded the expectations and indicated Chinese economic outlook improvement, supported commodity currencies growth. PRC industrial output growth rates accelerated in August up to 10.4% at an annual rate from 9.7% in July having exceeded forecasted growth by 9.9%. Retail sales grew by 13.4% y/y against expected growth by 13.3%. Fixed Asset Investment ytd/y grew by 20.3% y/y in August (Consensus 20.2%).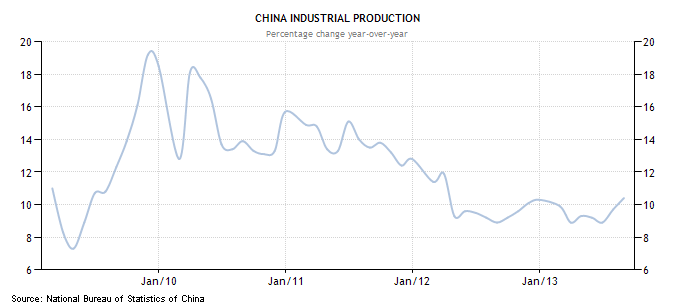 Australian dollar rose on Tuesday to its high for more than two months amid Business Confidence growth to the highest level since May, 2011. Australian NAB Business Confidence rose to +6 in August against -3 in July having exceeded zero point, which separated business conditions improvement from its worsening, for the first time in 4 months. Canadian dollar reached 3-week high on Tuesday despite Housing Starts decrease in August by 6.6%.
The pound updated its height of September amid positive housing market statistics. RICS House Price Balance rose to the highest reading in August since November, 2006 and reached 40% compared with 36% in July. The euro was traded a little worse. The pressure was put by French industrial output decrease which has been falling for three months in a row – it dropped by 0.6% in July while its growth by 0.5% was expected. Italian Final GDP for the second quarter also turned out worse than expected. GDP decreased by 0.3% against preliminary decrease estimate by 0.2%.
Publication source
---
MasterForex information
MasterForex reviews
December 9, 2016
On the daily chart of gold, the bears remain control over the market. As long as quotes are below $ 1,195, their positions are not under threat. The update of the December low can lead to the continuation of downward movement towards $1,116...
---
December 9, 2016
After an Asian consolidation oil prices moved higher on Thursday. The price slightly grew and reversed the minor part of its losses. The benchmark approached 53.50 post-Europe open. The price stayed below the 50 and 100 EMAs in the 1 hour chart...
---
December 9, 2016
The Italian referendum weighed on EUR/USD, fell to a year low of 1.0506 on 5th December. It was followed a quick recovery, as a result of the rebound of the Euro after testing the significant support level at 1.0500. Yet it retraced after testing the significant resistance level at 1.0800...
---