September 17, 2013
---
The US dollar dropped on Monday after former US Finance Minister Larry Summers had withdrawn for Fed chair but then the dollar partially recovered its lost positions. Past Sunday Larry Summers, nominated by Obama a potential Ben Bernanke's successor as the Fed chairman, withdrew his name justifying his decision with possible difficulties inside the Fed in case of his election, which may have a bad impact on the whole bank and the whole American economy.
Larry Summers was considered a "hawk", a supporter of tougher monetary policy and in case of his election the probability of total tapering off of stimulus programs in the shortest period of time was growing. This decision increases the chances of Fed vice chairman Janet Yellen, who supports a milder monetary policy, to become a more possible candidate for the Fed chair – although Obama may put forward other candidates for the chair. Other top candidates are former Fed Vice Chairman Donald Kohn and former Treasury Secretary Tim Geithner.
Morgan Stanley experts believe that Summers' withdrawal from the race for the Fed chair adds pressure on the dollar in anticipation of FOMC meeting. Commerzbank also believes that Yellen as Fed governor may favour dollar's weakening in long-term perspective. Summers' withdrawal may lower the concerns about the start of QE tapering off.
Other US data released on Monday had little influence on trading. Empire State Manufacturing Index dropped to 6.29 p. in September from 8.24 p. in August while a growth up to 9.1 p. was forecasted. The decrease was due to employment situation worsening. The US industrial output grew by 0.4% in August, which turned out a little less than expected growth by 0.5% and Capacity Utilization rate slightly increased to 77.8% as it was expected.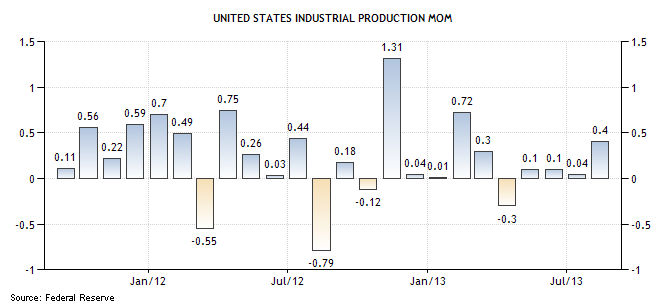 ECB president Mario Draghi making speech on Monday said about the progress in the efforts of euro-zone stabilization. Meanwhile, Eurostat data showed that euro-zone Labor Costs decreased to almost 3-year low in the second quarter and were behind inflation rates. It puts pressure on the finance of households and has a negative impact on the region's stable economic recovery outlook. According to the Istat data, Italian trade balance rose by 64.6% in July to 5.95 billion euro against 3.62 billion in June.
New Zealand dollar reached 4-month high on Monday against the US dollar. Housing market data still support it. REINZ Housing Price Index rose by 2.1% in August compared with the prior month. REINZ House Sales rose by 8.5% in August Vs the same period last year. Risk appetite growth was supported by the agreement on chemical weapon in Syria between Russia and the USA past weekend.
Publication source
---
MasterForex information
MasterForex reviews
December 9, 2016
On the daily chart of gold, the bears remain control over the market. As long as quotes are below $ 1,195, their positions are not under threat. The update of the December low can lead to the continuation of downward movement towards $1,116...
---
December 9, 2016
After an Asian consolidation oil prices moved higher on Thursday. The price slightly grew and reversed the minor part of its losses. The benchmark approached 53.50 post-Europe open. The price stayed below the 50 and 100 EMAs in the 1 hour chart...
---
December 9, 2016
The Italian referendum weighed on EUR/USD, fell to a year low of 1.0506 on 5th December. It was followed a quick recovery, as a result of the rebound of the Euro after testing the significant support level at 1.0500. Yet it retraced after testing the significant resistance level at 1.0800...
---