US dollar trade was mixed on Thursday and it made attempts of correction after prior day significant weakening and amid good US statistics. The dollar grew against the yen, the pound and Australian and Canadian dollars and slightly weakened against the yen, franc and New Zealand dollar. The Fed didn't reduce asset purchase program, which led to a sharp decrease of the dollar across the whole market.
US Existing Home Sales rose by1.7% m/m in August to 5.48 million at an annual rate – the highest level since May, 2010 – while a drop to 5.25 million was expected. Potential buyers hurried to close deals before mortgage rates rose even higher. Philadelphia Fed Manufacturing Index rose from 9.3 p. in August to 22.3 p. in September, the highest level since March, 2011. A growth only up to 10 p. was expected. The index is above zero which has been showing conditions improvement for 4 months in a row.
Conference Board Leading Index rose by 0.7% m/m in August having exceeded the expectations of growth by 0.6% - which may signal of increasing economic activity rate in the nearest time. The US Current Account Deficit dropped by 5.7% in the second quarter to $98.9 billion having reached the lowest level for almost four years, which was favoured by exports increase and a larger income account surplus.
Initial Claims rose considerably less than expected last week to 309 thousand – while a growth to 330 thousand was forecasted. 4-Week Moving Average of Initial Claims continues falling having dropped by 7 thousand by the end of the last week to 314.75 thousand – the lowest level since October, 2007. Meanwhile, the data released a week ago still were not revised in a proper way due to programming problems.
Initial Claims and 4-Week Moving Average of Initial Claims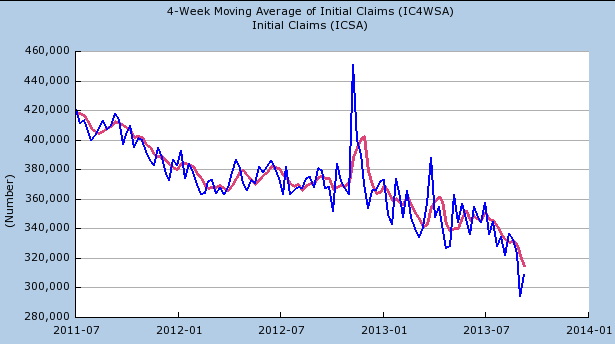 The pound fell after a weak retail sales report which dropped unexpectedly by 0.9% m/m in August after three months of growth. The indicator was expected to grow by 0.4%. At an annual rate retail sales growth slowed down to 2.1% from 3% prior month against the expected growth by 3.3%. Meanwhile, CBI Industrial Order Expectations rose significantly in September having reached the level of 9 – such reading was only in August, 2007 before the crisis. The reading exceeded zero level for the first time in 2.5 years, which can indicate that the economy continues recovering.
Swiss franc grew amid Swiss National Bank meeting where the monetary policy and also EURCHF floor limit were kept unchanged. The central bank raised the GDP growth outlook for the current and 2014 years. The government of Switzerland also raised GDP growth outlook and lowered unemployment outlook in 2013-2014 years. The yen weakened on Thursday amid Japanese stock index Nikkei growth to almost 2-month heights and also weak Japanese trade balance data.
Annual GDP growth of New Zealand and the USA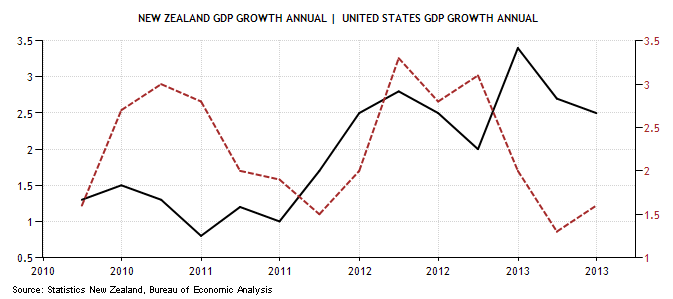 New Zealand dollar was supported by GDP data which turned out better than expected. The country's economy grew by 0.2% in the second quarter in comparison with the prior quarter despite agricultural production decrease, which met the expectations. At an annual rate the GDP rose by 2.5% Vs expected growth by 2.3%. Besides, first quarter data were revised upwards.