September 25, 2013
---
The US dollar was traded slightly upwards on Tuesday to most major currencies amid German Business Climate growth that fell out of expectations and amid the decrease of US Consumer Confidence from more than 5-year high.
S&P/Case-Shiller Home Price Index for 20 US megalopolises almost met the expectations and grew by 12.4% in July at an annual rate. FHFA House Price Index turned out a little better and rose by 1% in July; and it was forecasted to grow by 0.8%.
CB Consumer Confidence in the USA dropped from the highest reading since early 2008 of 81.8 p. in August to 79.7 p. in September against the expected decrease to 79.9 p. Current Assessment has risen slightly but the Expectations have considerably fallen in comparison with the prior month. Richmond Manufacturing Index also fell in September to 0 compared with +14 in August while it was forecasted to fall a little.
FOMC member William Dudley said on Tuesday that the Federal Reserve could start QE tapering off till the end of the year but it would depend on the economic situation. Meanwhile, according to the Goldman Sachs Janet Yellen may be named a new Fed chair next week.
The euro was traded downwards after the release of IFO report which showed that German IFO Business Climate rose to 107.7 p. in September from 107.6 p. in August while a growth to 108.4 p. was forecasted. IFO Expectations grew a little better than forecasted while IFO Current Assessment considerably dropped despite the expected growth. ECB Governing Council member Ewald Nowotny confirmed on Tuesday Draghi's words that LTRO was discussed in the Executive Board and it is important that the ECB showed all its instruments.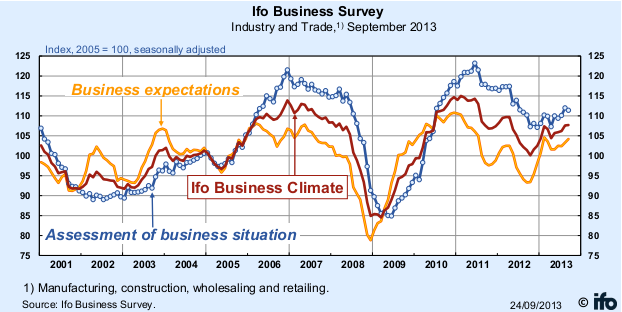 The pound was traded downwards amid BBA Mortgage Approvals release that increased in August less than forecasted – to 38.2 thousand against the expected growth to 38.6 thousand. At the same time it is the highest reading for almost three years – from December, 2009.
The Bank of England representative David Miles making speech on Tuesday said that recent positive signals in the British economy don't indicate a possible early key interest rate increase. Besides, investors are too optimistic about the fact how quickly unemployment rate would fall.
Canadian dollar had almost no reaction to retail sales data and by the end of the day it slightly fell. Retail sales rose in July by 0.6% in comparison with the prior month, which met the expectations. Core Retail Sales rose by 1% having exceeded the expectations (+0.6%) but prior month data were revised downwards.
Publication source
---
MasterForex information
MasterForex reviews
January 20, 2017
Euro holds gains against the US Dollar ahead of the ECB rate decision, as majority of economists expect no major updates in the policy, while investors will be taking stock of Draghi rhetoric's to foresee the timeframe of the next big move by the policymakers...
---
January 20, 2017
Oil prices remained in red figures after Wednesday's bearish acceleration. Brent a little changed on the day and remained prone to more weakness on Thursday. The benchmark stayed neutral around 54.50 dollars per barrel flirting with the level during the European session...
---
January 20, 2017
The British pound has pulled back sharply today after making its biggest 1day gain in nearly 20 years' yesterday, as fears once again crept in about where Brexit will lead to...
---