The US dollar was traded downwards on Friday against most major currencies (except commodity ones) amid US Consumer confidence decrease and uncertainty about the budget and national debt ceiling. U. of Michigan Consumer Sentiment dropped in September to the lowest reading for five months 77.5 p. from 82.1 p. prior month. The data turned out worse than forecasted decrease to 78 p.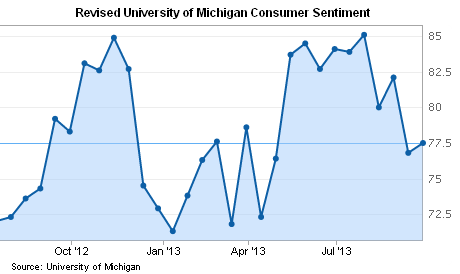 Negotiations on the budget and US national debt are still an important factor for all financial markets. Their failure can lead to the suspension of the government's work which in case of duration for 3-4 weeks will decrease US GDP in the fourth quarter by 1.4% according to the forecast of Moody's. The dollar was also negatively affected by the words of FOMC member Charles Evans who said that he wouldn't be surprised if bond purchase reduction wasn't started even in October. FOMC member William Dudley also said that the economy wasn't strong enough yet to start tapering off QE.
The euro reached 8-day high on Friday Vs the dollar amid euro-zone economic sentiment growth. Euro-Zone Economic Confidence from the European Commission exceeded the forecast (96 p.) and grew in September to the highest reading since August, 2011 amounting to 96.9 p. against 95.3 p. prior month. The pound also rose after the Bank of England governor Mark Carney had said on Friday that he saw no reasons for further quantitative easing.
By the end of the week the dollar lost 0.24% according to the dollar index having closed the third week by decline. The dollar fell against the Japanese yen (-1.04%), British pound (-0.86%) and Swiss franc (-0.47%); it almost didn't change Vs the euro and Canadian dollar; it rose Vs New Zealand dollar (+0.98%) and Australian dollar (+0.82%). According to the end of September, till the end of which only one day is left, the dollar significantly weakened having lost almost 1.9% according to the dollar index. Monthly decrease risks becoming the lowest for almost two years.
The first week of the month as always will be saturated with important events. There will be three central banks meetings, PMI, retail sales, inflation and labour market data. In euro-zone there will be a release of preliminary inflation data on Monday, on Thursday – manufacturing PMI and unemployment data, on Wednesday – ECB decision on rate and Mario Draghi's press conference (the meeting is moved for one day due to the holiday on Thursday in Germany) and on Thursday – Service PMI and retail sales. In Germany retail sales data will be published on Monday, on Tuesday – labour market and on Friday – Producer Price Index.
In the UK Mortgage Approvals will be released on Monday and Manufacturing, Construction and Service PMI will be published from Tuesday to Thursday. A further index growth is expected except the service sector where the index is unchanged. In Japan industrial output and retail sales will be released on Monday, on Tuesday – Tankan quarterly report and on Friday the results of the Bank of Japan meeting will be announced.
In Australia retail sales will be released on Tuesday and RBA will announce the results of its meeting on rates, no changes are expected. JPMorgan forecasts another rate decrease in November and it can be insinuated already at this meeting. The markets consider 50%- probability of the rate decrease by 0.25% by the end of this year. On Wednesday Australian trade balance and building permits will be published on Wednesday. In China official Manufacturing PMI will be released on Tuesday and Service PMI – on Thursday. In Canada GDP will be released on Monday and Ivey PMI – on Friday.
In the USA Chicago PMI will be released on Monday, on Tuesday – ISM Manufacturing PMI and Construction Spending; on Wednesday - ADP Employment Change; on Thursday – ISM Service PMI and Factory Orders. Fed governor Bernanke will make a speech at St. Louis Fed conference on Wednesday. And finally, the week and probably the month will be finished on Friday by a key report of the whole week - Non-Farm Payrolls. About 180 thousand of new jobs are expected against 169 thousand prior month - and a constant unemployment rate 7.3%.