The US dollar continued falling on Thursday against most major currencies for the fifth session in a row amid contradictory statistics and the US government shutdown. The dollar dropped against the euro, franc and yen and grew against the pound – having fallen a little according to the dollar index. Unemployment Claims turned out better than expected but the US Service PMI fell significantly. The euro rose on the back of strong retail sales data and euro-zone Service PMI growth. The pound decreased after a slight drop of the UK Service PMI.
There is no progress yet in budget and US national debt issues, government shutdown has been going on for three days in a row. The USA president Barack Obama said that the Shutdown could lead the country to default. Last week Treasury Department also said that the Congress could lead the country to default if it didn't raise the debt limit till October 17.
According to the Bloomberg, next week republicans intend to offer the US president Obama to raise the USA national debt limit in exchange for accepting their suggestions on changing expenditure budget in particular healthcare program financing. Meanwhile, a famous business magnate and investor Warren Buffett believes that the US Congress will solve the question of debt ceiling increase before this problem starts hurting American economy seriously.
The US Unemployment Claims last week rose only by 1 thousand to 308 thousand although a growth by 8 thousand was expected. The claims rate is still about 6-year low. Initial Jobless Claims - 4 Week Average which smoothes the volatility of weekly data dropped by 3.75 thousand last week to 305.5 thousand – the lowest reading since May 2007. The data become more important because Non-Farm Payrolls is unlikely to be published on Friday.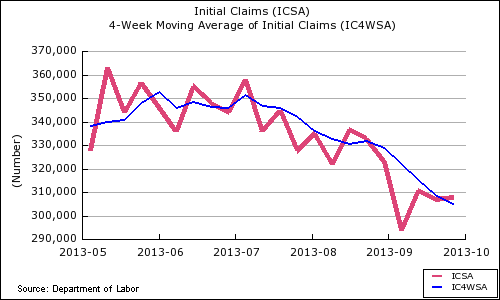 The dollar fell on Thursday after ISM data release according to which Non-Manufacturing PMI dropped considerably in September to the lowest reading in three months 54.4 p. from the historical height of 58.6 p. in August. A decrease only to 57 p. was expected. Employment and PMI decreased most of all. FOMC member Williams making speech on Thursday said that mild monetary policy would be required for a rather long period of time. FOMC Member Dennis Lockhart also said that a long government shutdown made QE tapering in October less possible.
ISM Manufacturing and Non-Manufacturing PMI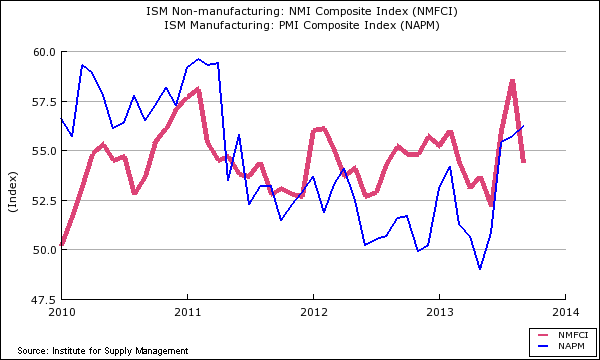 The euro continued rising amid rather strong data that prove EU economic recovery. Euro-zone retail sales rose by 0.7% m/m in August against the expected increase by 0.2%. Prior month data were also revised upwards from 0.1% to 0.5%. Euro-zone Final Service PMI rose a little more than expected – to 52.2 p. against the preliminary estimate of 52.1 p. In France and Italy the index turned out better than expected while it was worse in Germany and Spain.
The pound was traded downwards on the back of a slight decrease of Service PMI from almost 7-year high reached a month ago. The UK Service PMI fell to 60.3 p. in September against 60.5 p. in August while no changes were expected. But all three September indexes released this week – Manufacturing, Construction and Services – turned out worse than expected. Halifax House Price Index turned out a little worse than forecasted – it rose by 0.3% m/m in September while a growth by 0.5% was forecasted.