The US dollar was traded moderately downwards on Monday to most major currencies amid no progress in fiscal crisis in the country. Most of all the dollar dropped against the yen on the back of continuing decline of Japanese stock market. The US government has been partially shut down for seven days. The US situation puts pressure on the dollar. Both parties on negotiations continue taking tough positions and don't make compromise, which may jeopardize economic growth of the world's largest economy.
Republicans still don't intend to bring up for vote an issue about renewal of the government financing and national debt limit increase in the House of Representatives until the White House comes to terms in health insurance reform. The disagreements between the democrats and republicans seem to have intensified over the weekend. The leaders of the republicans increasingly insist on linking the attempts to resolve budget stalemate with the efforts to prevent debt default.
On Sunday the speaker of the House of Representatives John Boehner said that he couldn't admit financing of the government or debt limit increase without negotiations on a wide cutdown in spending. The U.S. Secretary of the Treasury Jacob Lew said that the Congress was playing with fire if it didn't raise debt ceiling till October 17. President Obama urged the Republicans to allow a free vote in the House of Representatives on spending bill. He believes that there can be enough votes in the House of Representatives for the bill to pass.
One of the largest banks of the USA, Bank of America lowered its forecast on US economic growth on Monday amid government shutdown. The forecast is lowered in the third quarter to +1.7% against +2.5% in the second quarter. The forecast for the fourth quarter is lowered to +2.0% from +2.5%. The analysts of the bank expect the Fed to start QE tapering off only in January 2014. Japan, the second largest holder of U.S. Treasuries, expressed its hope on Monday for a quick resolution of the US budget stalemate which can lead to a default on the national debt.
There were no significant macrostatistics data on Monday that could influence the markets. Sentix Investor Confidence fell unexpectedly in October to 6.1 p. from 6.5 p. in September although its growth to 10.9 p. was expected. According to the National Bureau of Statistics of Canada Building Permits slumped in August from a record reading of July – by 21.2% to 6.34 billion Canadian dollars against the expected decrease only by 2.4%. It is the lowest decrease of Building Permits since April, 2011.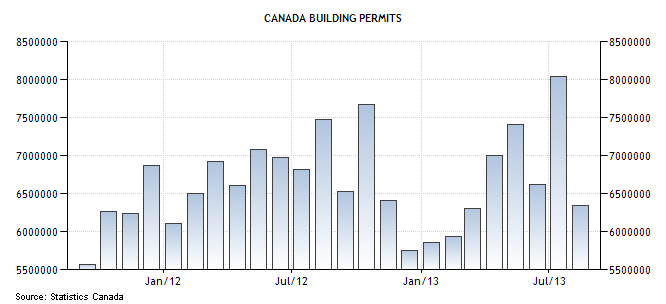 The pound was traded upwards amid UK Economic Optimism growth which reached 17-year high in the third quarter, which proves the strength of British economy. According to the CBI and PwC opinion poll – companies of the UK financial service sector became more optimistic about the business outlook since 1996.