The US dollar rose on Thursday Vs the yen and slightly changed Vs other major currencies having added about 0.16% according to the dollar index amid the first signs of the US fiscal crisis resolution. The yen weakened significantly on the back of the decrease of defensive assets demand and the growth of inclination to risk. The pound and euro almost didn't change by the end of the day amid the finished meeting of the Bank of England and weak industrial output data in France and Italy.
There appeared the first signs that the US lawmakers are moving towards an agreement on national debt limit increase. On Thursday it was announced that republican leaders in the House of Representatives were going to introduce an offer to the U.S. President Barack Obama about temporary debt limit increase for six weeks amid a more extensive plan of budget discussion. It may become a breakthrough in the stalemate which led to a partial shutdown of the government and put the USA on the brink of a debt default.
Meanwhile, on Thursday weak statistics on US labor market was released. Unemployment Claims rocketed by 66 thousand last week to 374 thousand although its growth by 4 thousand was expected. Weekly growth is the largest for almost a year. However the data were not quite true-to-life – it was influenced by government shutdown and a failure of computer systems. Labor Department announced that about a half of new claims was due to California which shifts to a new computer system and two previous weeks it gave incomplete data. And only 15 thousand of claims were aroused by government shutdown.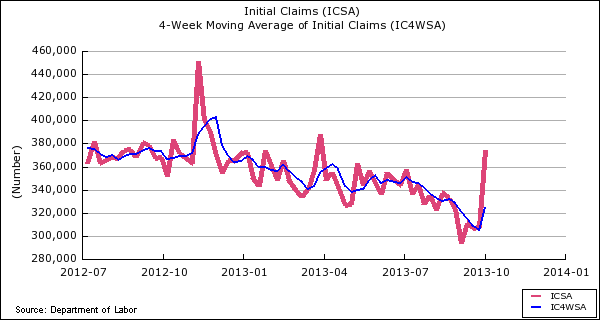 The pound and the euro almost didn't change by the end of the day. The Bank of England, as it was supposed, kept the key interest rate and Asset Purchase Facility unchanged. French industrial output in August reached the forecasts and rose only by 0.2% against the expected growth by 0.5%. Italian industrial output fell by 0.3% in August while its growth by 0.6% was expected. ECB President Mario Draghi making speech on Thursday in New York said that the ECB would follow mild policy to help the recovery.
The yen weakened significantly on Thursday amid stock indexes and risk inclination growth and decrease of demand for defensive assets. DJIA rose by 2.18% having shown the highest growth since this January. Core Machinery Orders in Japan rose by 5.4% m/m in August and reached the highest level for almost 5 years, which favored Japanese stock market growth. The Bank of Japan will do everything that is required to overcome deflation, said the head of Japanese central bank, Haruhiko Kuroda in New York. However, he refused discussing extra measures of reaching this goal.
Australian dollar was traded downwards after the release of labor market mixed data but then recovered its losses. Despite unexpected decrease of unemployment rate in September from 5.8% to 5.6% - employment rate rose only by 9.1 thousand and didn't reach the forecast of 15 thousand. Participation Rate reached its low for almost 7 years – 64.9% of labor force against 65% in August.
New Zealand dollar fell slightly amid Business Manufacturing Index decline to 3-month low. Business NZ Manufacturing Index dropped to 54.3 p. in September in comparison with 57.5 p. prior month.