The dollar fell on Wednesday Vs most major currencies amid no significant macrostatistics in the USA and before Fed Chairperson-Designate Yellen testifies on monetary policy before the Senate Banking Committee on Thursday. But the spotlight of Wednesday was the pound due to labour market and inflation report. The euro continued growing for the third day despite weak industrial output data in the euro-zone. Australian dollar grew after four days of decrease amid consumer confidence growth.
The dollar dropped even more at the end of the day after the publication of Yellen's speech before the Senate. Janet Yellen made it clear that the Fed must support the economy by stimulus measures. Economic recovery support today is the best way for the Fed to return to normal policy and the Fed has a lot of to do to strengthen financial system – she said.
The pound grew considerably on Wednesday after the publication of positive unemployment forecast and following BOE Inflation Report. Claimant Count Change fell by 41.7 thousand in October although its decrease only by 30 thousand was expected. ILO Unemployment Rate fell from 7.7% in August to 7.6% in September, the lowest reading for more than four years. Claimant Count Rate in October fell to its low 3.9% since January 2009 compared with 4% in September.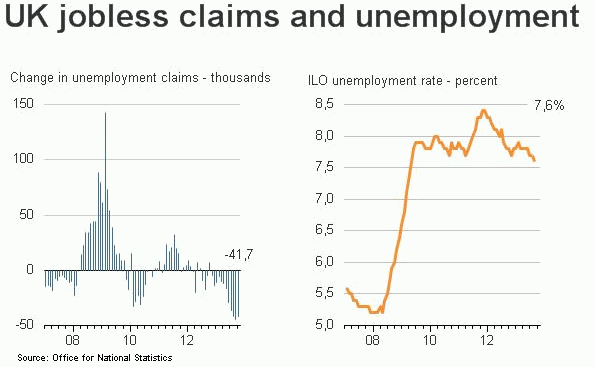 In its Inflation Report the Bank of England signaled of a possible early interest rate increase. Key unemployment rate 7%, after which the first increase of interest rates may be made, may be reached with 50% probability by the third quarter of 2015, not by the second quarter of 2016 as it was considered before. GDP growth forecast for 2014 was raised from 2.5% to 2.8%. In the fourth quarter of the current year the GDP will rise by 0.9% after the growth by 0.8% in the third quarter.
The euro was traded downwards at the beginning of the day amid euro-zone weak industrial output data and it fell after ECB's Praet's statements – but then recovered its losses and even grew. Euro-zone industrial output fell in September more than forecasted – by 0.5% while a decrease by 0.3% was expected. ECB's Praet said that negative deposit rate and asset purchases are potential options if needed to stimulate economy and ensure economic growth.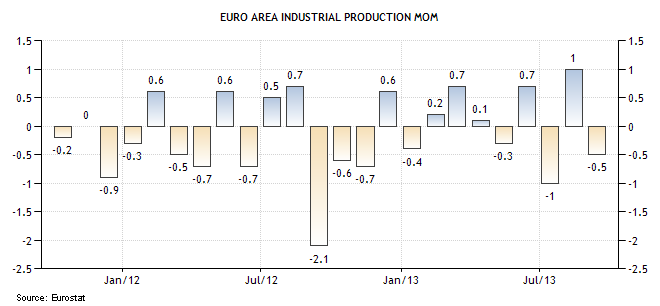 Australian dollar rose on Wednesday for the first time after 4-day decrease amid consumer confidence growth. Westpac Consumer Confidence Index rose by 1.9% in November after the decrease by 2.1% in October. Compared with last November the index rose by 5.8%.