The US dollar suspended falling on Thursday as Yellen's speech had no surprises. The dollar dropped Vs the pound but grew Vs the yen, euro and Australian dollar. The euro stopped 3-day growth amid economic growth rate slowdown in the third quarter. The pound grew despite a weak retail sales report. The yen fell amid weak economic growth data of Japan for the third quarter.
Making speech before the Senate, Fed Chairperson-Designate Yellen said that there would be no considerable changes in the central bank's policy if she became the next chair. The Fed will continue soft monetary policy as it is necessary for American economic recovery and employment growth. It is important to keep the support especially within the terms of still fragile recovery, she said. Morgan Stanley governor said that QE tapering could be expected within the nearest two months.
The US Unemployment Claims fell by 2 thousand last week to 339 thousand as it was expected to fall by 11 thousand to 330 thousand. The indicator has been falling for five weeks in a row. Four week average of Unemployment Claims fell to 344 thousand from 348.5 thousand. The US Trade deficit increased by 8% in September up to its high since May - $41.8 billion, while a decrease to $39 billion was forecasted.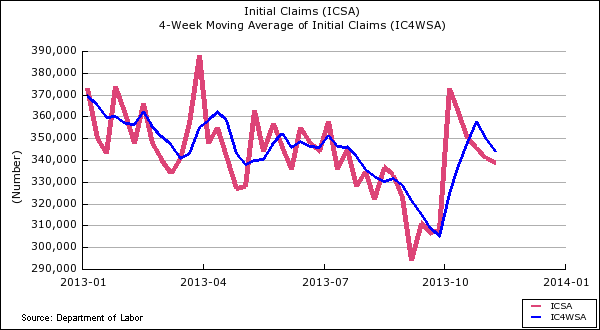 The euro slowed down its 3-day growth and slightly dropped after the euro-zone first estimate GDP for the third quarter. European economy grew by 0.1%, which met most forecasts. German GDP rose by 0.3% q/q and in Italy it fell by 0.1% which met the expectations. At the same time French GDP fell unexpectedly in the third quarter by 0.1% although no changes were expected.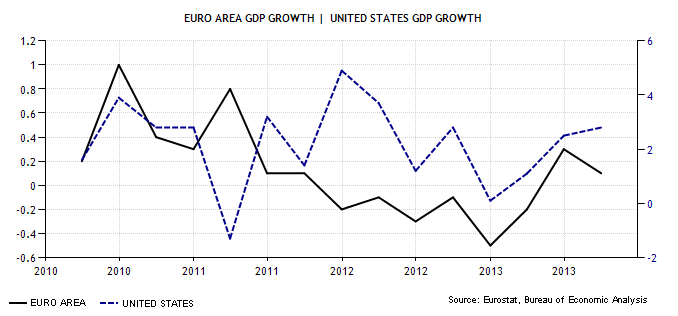 The pound ignored a weak retail sales report and rose for the second day. The UK retail sales decreased by 0.7% in October while no changes were expected. New Zeeland retail sales for the third quarter also turned out worse than expected – they rose only by 0.3% q/q while a growth by 0.9% was expected. New Zealand dollar was traded downwards but by the end of the day it recovered its loss. NZD was supported by Manufacturing Index growth data in October during 11 consequent months - Business NZ Manufacturing Index rose from 54.2 p. to 55.7 p.
USDJPY reached the level of 100 yen for the first time since September 11. The yen continues weakening amid the growth of Japanese stock market which has been rising for five days in a row – Nikkei rose on Thursday by 2.1% and Nikkei futures reached almost 6-month high. Japanese GDP for the third quarter turned out slightly better than expected (+0.4% q/q). Economic growth rate slowed down to 0.5% q/q from 0.9% prior quarter – Japanese economy has been decreasing for the second quarter in a row as weak personal consumption and the slowdown of exports growth rate exceeded strengthening of real estate investment. Goldman Sachs forecasts that the Bank of Japan will take extra stimulus measures in the second quarter of 2014 – just after the Fed will announce QE3tapering, which may become an accelerator in USDJPY rally.
Australian dollar was traded downwards amid Consumer Inflation Expectation decrease in November from 2% to 1.9%. Canadian dollar slightly fell – New Housing Prices in September turned out worse than expected while Canadian Trade Deficit fell considerably having exceeded the forecasts.