The dollar dropped on Tuesday against most major currencies after weak consumer confidence data which continued falling in November after a sharp decline in October connected with the government shutdown. The pound and the euro were traded upwards; the yen also strengthened a little. Australian and New Zealand dollars continued falling.
CB Consumer Confidence fell to 70.4 p. in November from 72.4 p. in October while it was expected to grow up to 72.9 p. Prior month indicator was revised from 71.2 p. to 72.4 p. The index has been falling for three months and like last month continues staying at low since this April. Expectations fell most of all.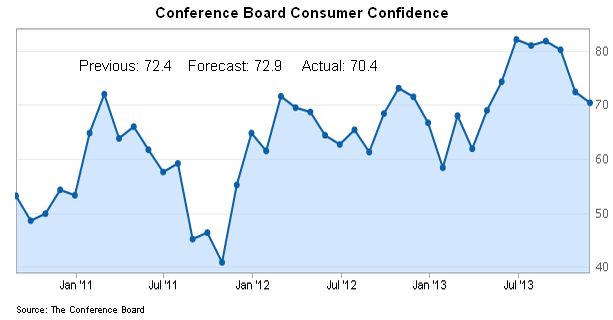 Housing market data that were released before turned out positive in general. Building Permits in the US rose by 6.2% in October Vs prior month and amounted to 1034 thousand at an annual rate, which has become the highest level since June, 2008. Prior month indicator was expected to be at 930 thousand. Building Permits in September rose by 5.2% to 974 thousand also exceeding the expectations. New Housing Starts were not published on Tuesday. Ministry of Commerce referred to the fact that the exact figures couldn't be collected in time.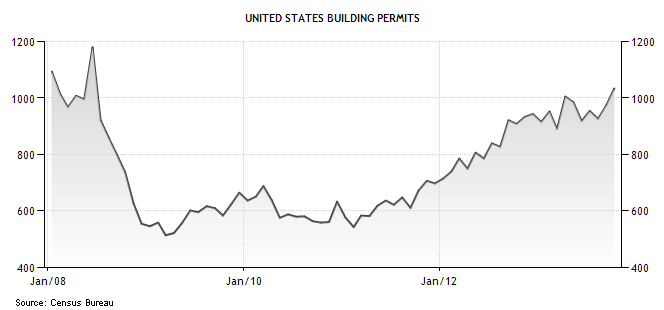 S&P/Case-Shiller Home Price Index in 20 largest cities grew by 13.3% in September at an annual rate having exceeded the expected growth by 13%. At the same time FHFA House Price Index rose by 0.3% in September Vs prior month and turned out slightly worse than forecasted growth by 0.4%. Richmond Fed Manufacturing Index rose to 13 p. in November Vs 1 p. in October having significantly exceeded the expected growth to 4 p.
The pound was traded upwards on Tuesday having almost no reaction to BoE Inflation Report and the speech of BoE governor Mark Carney who said about a sharp economic recovery in the UK, about strong employment rate growth and improvement of business confidence. At the same time Carney said again that unemployment decrease to 7% wouldn't be an automatic trigger for the CB to raise the rate.
The euro also strengthened on the back of Italian Consumer Confidence growth. Consumer Confidence rose to 98.3 p. in November, 2013 from 97.3 p. in October having exceeded the expected growth to 97.5 p. The euro was supported by The People's Bank of China governor's statement that the European currency is an important part of Chinese reserves. The Australian dollar continued falling after some growth at the beginning of the day caused by the statements of RBA Deputy Governor Philip Lowe who weakened growing expectations of currency interventions – having said that the threshold at which the central bank would make interventions at the currency market was high enough.
The yen strengthened a little on Tuesday from 6-month low Vs the dollar that was reached this week after the publication of Monetary Policy Meeting Minutes which showed that three members of BoJ Policy Board opposed some provisions of central bank inflation report, which was released in October. Member of the Policy Board Kiuchi said on Tuesday that it was unreasonable to plan reaching 2% inflation within 2 years and this target of the central bank towards prices growth was inadequate. It is another sign of disagreement among the leaders of the Bank of Japan.