The US dollar fell slightly on Monday Vs the euro and the yen – and almost didn't change Vs the pound and commodity currencies amid contradictory statistics. The US industrial output rose more than forecasted while manufacturing PMI strengthened less than expected. The euro was traded upwards amid the euro-zone manufacturing PMI growth to 31-month high.
The dollar recovered some loss after the U.S. industrial output release. Industrial output rose to 101.3 in November from 100.2 in October, having exceeded the top of recession for the first time and having shown the historical height – which has become another sign of the U.S. economic growth rate acceleration.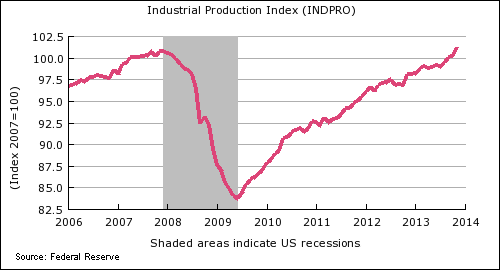 The U.S. industrial output rose by 1.1% in November compared with October while a growth by 0.6% was expected. This is the highest growth rate for a year. Prior month data were revised upwards. Capacity Utilization Rate grew by 0.8% to 79% above expectations.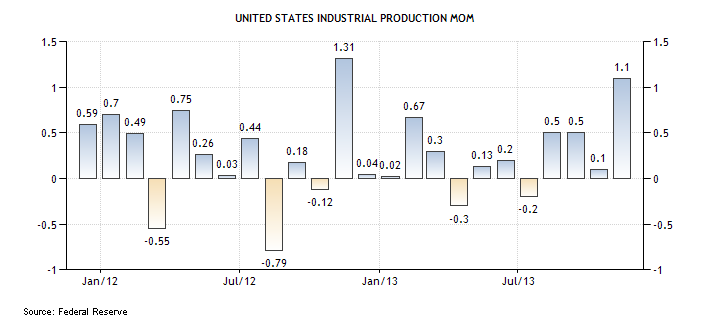 At the same time manufacturing PMI turned out weaker than forecasted. Empire State Manufacturing Index rose to 0.98 p. in December compared with -2.21 p. in November while a growth to 5 p. was expected. Flash Markit Manufacturing PMI fell to 54.4 p. in December Vs the final reading 54.7 p. in November and forecasted growth to 55 p.
The euro grew on Monday after two days of decrease amid the euro-zone Manufacturing PMI growth. Euro-zone Flash Manufacturing PMI grew to 31-month high in December. At the same time euro-zone Services PMI dropped to 4-month low. Euro-zone Composite PMI maintained only to 3-month high. In France both manufacturing and services PMI decreased. In Germany only manufacturing PMI has risen which continues pulling the whole euro-zone.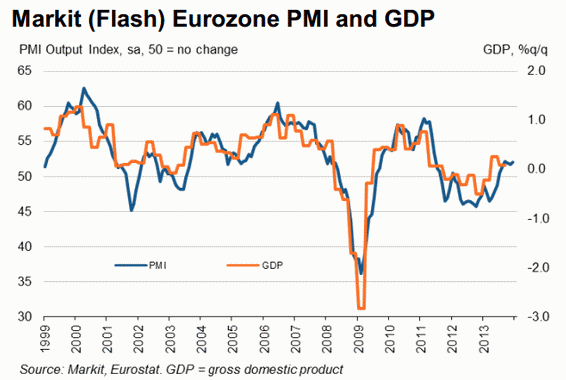 The euro-zone trade balance surplus rose 1.6 times in October to 17.2 billion euro compared with 10.9 billion in September. ECB president Mario Draghi making speech in the European Parliament on Monday said again that economic recovery in the euro-zone was still fragile – price pressure would be still moderate and interest rates in the region would stay at the current low level for an extended period of time. Meanwhile, the ECB got 3-Year LTRO Repayment - for the loans given at the end of 2011 within LTRO first round – for the highest since February 22.7 billion euro.
The yen rose amid the decrease of Japanese stock market – Nikkei fell on Monday by 1.6%. Pressure was put by Chinese manufacturing PMI decrease. HSBC Flash Manufacturing PMI dropped to its low 50.5 p. for the past three months n December from 50.8 p. in November while the index was expected to grow. At the same time Tankan Large Manufacturing Index rose to its high in the fourth quarter since December, 2007. However, concerns managers worsened the forecasts of Business Spending for the current fiscal year and the next quarter estimate.