Last week we observed a strong weakening of emerging markets currencies. The largest decline was the Argentine peso, which has fallen by almost 18%. We can remark two factors that influence emerging markets. First of all, the purchase of US government bonds by Fed is realized through money emission. That's why a decrease of the purchase volume means that dollar mass falls. As a result investors may be afraid of dollars lack for an exchange and a global investing. Besides it may cause a significant increase of credit rates and a yield growth of dollar assets. In such case international funds convert their actives into the American currency. Another reason of global sells in emerging countries is slowdown in the Chinese economy and a regular lack of liquidity in the interbank market of China. We should notice that Yuan – Dollar course has not changed significantly since a beginning of the year. However investors are afraid of new crisis like one of South East Asia in 1997-1998.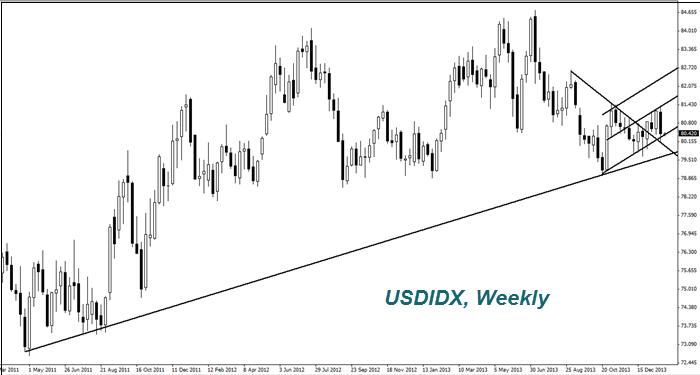 Meanwhile a dollar index has fallen significantly last week. We consider that some part of investors doubt that Fed will reduce bonds purchase by $10 billion. Let's remark that New Home Sales shall be available at 15-00 GMT+0. For now a forecast is negative.
The U.S. dollar fell against the Japanese yen (USDJPY) to its lowest level in seven weeks. Investors suggest that yen is more suitable for the status of "haven currency". The current Japanese debt is a maximal one among emerging countries. It's over 200% of GDP. The Japanese government tends to decrease a deficit by 1.1% of GDP by 2020/21. That's why a GDP growth rate should be not less then 3%. If GDP will increase slower then economical crisis in Japan beginning is possible. The next GDP value will be updated by 17 of February. We expect that it will increase by 1.6% that is close to the lower limit of the government forecast. Today, in the morning a trading deficit of Japan has been published – it turned out that it has been increased twice up to $112.3 billion. In general it has caused by increase of energy imports and yen weakening.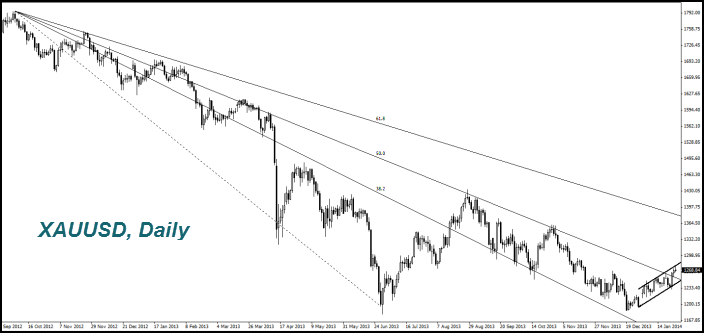 On the background of crisis gold has a higher demand as the main "asset protection" instrument (XAUUSD). Besides a release of the Canadian company Barrick Gold Corp. was published: its gold reserves have been decreased by 10%. Some fields have become unprofitable because of gold prices fall. Several gold mining companies have warned about possible tapering of resources as well. Gold prices rise for 5 weeks and that is first time since September of 2012. However, huge investing banks preserve pessimism regarding gold in their forecasts. They expect the fall of price to $1150-1050 range because of world economy rise – see the forecast of IMF.