The major currency pairs on Monday hardly changed. Market participants are waiting for the U.S. Federal Reserve meeting results on Wednesday. According to its results, it could be announced of further reduction of purchasing the government bonds by $ 10 billion to $ 65 billion per month. Today, the U.S. economic data will be released. Usually they have an impact on the U.S. Dollar. At 13-30 GMT (0), we expect the announce of orders for durable goods in December. At 15-00 GMT (0) we expect the Consumer Confidence Index for January to be released. In our opinion, the preliminary forecasts are negative for the U.S. currency. However, investors may ignore them, waiting for tomorrow Fed decision. There were the weak figures on the U.S. real estate market coming out yesterday. However, they did not affect the U.S. dollar.
The Australian Dollar (AUDUSD) rose due to the unexpectedly high business conditions data for December. The index reached the 2.5 yrs. peak.
The Canadian Dollar (USDCAD) was stabilized at C $ 1.10 per the U.S. Dollar. Investors expect the important economic data on GDP in Canada for November, which will be released on Friday.
The Pound (GBPUSD) strengthened on expectations of strong economic statistics. Today at 9-30 GMT (0), we expect the preliminary GDP for the fourth quarter. Investors believe that it will increase by 2.8%. Then it will be the maximum growth since the first quarter of 2008. If the GDP data coincide with the forecast, it will increase the likelihood of increasing the interest rates in the UK. The next Bank of England meeting will be held on February 6. However, most likely, the decision regarding the interest rates will not be accepted until February 18, when the inflation data for January come out.
The Japanese Yen (USDJPY) continues to weaken today (growth on the chart). Investors expect the stabilization of the currencies of developing countries. The Central Bank of Turkey plans to raise the interest rates today. Market participants previously treated the yen and the Swiss franc (USDCHF) as "safe heaven". Note that the franc also slightly weakened today (growth on the chart).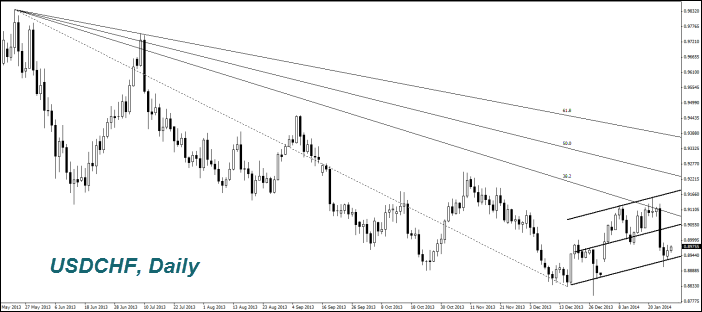 There was the maximum downfall of the natural gas prices in nine months (NATGAS), occurred on Monday. Perhaps market participants took profits. Previously, the natural gas prices peaked for the first time within last four years, due to increased demand for heating because of the extremely cold weather in the United States. However, the temperature in Chicago dropped today to minus 20 degrees Celsius and the gas is a little more expensive. The Arctic cold front has captured the entire southeastern United States. The produced gas reserve decreased by about a third in the storage facilities within three months. Concerning the weather in the United States, we do not exclude the growth in wheat prices (WHEAT) due to a possible reduction of its harvest.