March 18, 2014
---
On Monday March, 17 the US dollar was traded mixed amid controversial statistics in the USA. The US dollar increased vs. the yen, but decreased vs. major commodity currencies, having slightly changed vs. the euro and the pound. Housing Market and Empire State Manufacturing data appeared to be worse than expected, whereas Industrial Production data appeared to be better.
The US economic data still marks weak economy recovery. Empire State Manufacturing Index increased in March less than it was expected – to 5.61 p. from 4.48 p. in February – whereas growth to 6 p. was predicted. Employment and Prices Received considerably decreased. Index for the six-month outlook also dropped.
NAHB Housing Market Index in March also increased less than it was forecasted – to 47 p. from 46 p. in February, whereas growth to 50 p. was expected. NAHB demonstrated that American builders still used caution in terms of Housing Market; they suppose that recovery problems were not only connected with poor weather conditions.
At the same time the US Industrial Production data considerably exceeded the forecasts. Industrial Production increased in February by 0.6% having thrice exceeded the predictions of growth (+0.2%). At that Manufacturing Production (75% by the US Industrial Production volume) – strengthened its positions by 0.8% m/m having demonstrated the largest increase since August. Capacity Utilization increased by 0.3% to 78.8%, having also exceeded the expectations.
On Tuesday two-days Federal Open Market Committee (FOMC) Meeting will start. It will be the first meeting under the chairmanship of Janet Yellen – the results will be announced on Wednesday.
The yen weakened its positions on Monday after 4-day strengthening amid appetite for risk and stock markets increase, after weakening of tension in Crimea. Financial markets estimated the results of the Crimean referendum about joining Russia on Sunday. Sanctions on the part of western countries concerning Russia appeared to be softer than it was expected – and were of political character. Anyway geopolitical situation is still complicated.
Bank of Japan Kuroda's speech also assisted the yen's weakening. Kuroda announced that BOJ should be ready to ease monetary policy in case of any hint to the problem of achieving target inflation rate due to economic decline. He noted that examination of further measures will be realized at early stages – depending on the reaction of the economy to sales tax increase.
Some reduction of geopolitical tension on Monday assisted the increase of sensible to risks commodity currencies such as AUD, NZD, and CAD. The Canadian dollar strengthened its positions amid Existing Home Sales increase (+0.3% m/m) in Canada, which increased for the first time after 4-month decrease.
The New Zealand dollar increased amid strengthening of Consumer Sentiment in New Zealand to 9-year high. Westpac Consumer Sentiment increased in the 1st quarter of 2014 to 121.7 p. comparing with 120.1 p. in the 4th quarter of the previous year.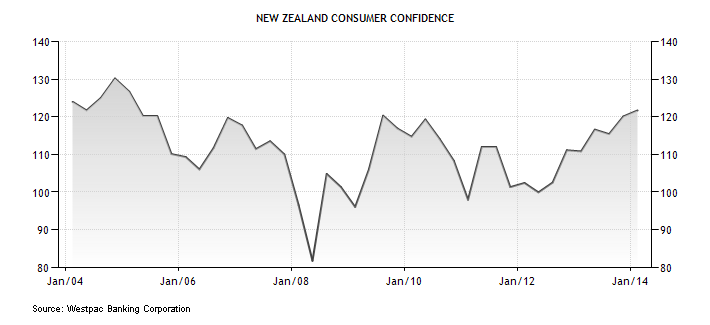 The euro slightly strengthened its positions having almost no reaction to downwards revision of the inflation rate in the Eurozone. According to final data Annual Inflation Growth Rate in the Eurozone reduced in February to 0.7% against preliminary estimations at the level of 0.8%, and the same reading in January – whereas revision was not expected.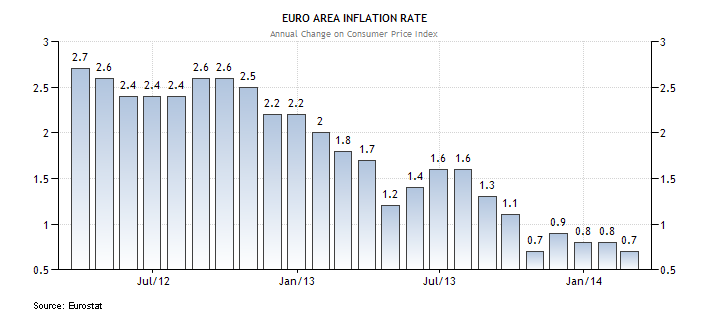 Again inflation dropped to the October reading of the last year; and its slowdown is not the best sign for the European economy which so hardly demonstrates signs of the crisis recovery. At the same time Core Inflation growth rate didn't change in February comparing with January, and stayed at the level of 1%.
Publication source
---
MasterForex information
MasterForex reviews
January 16, 2017
While earnings season has started on a very positive footing, however, banks and other financial companies were already expected to shine more than others due to rising interest rate expectations. As non-financial companies begin to report in the coming weeks...
---
January 16, 2017
After reaching 56.50 dollars per barrel Brent rolled back to 55.50. The benchmark started Friday in a consolidation. Brent extended its sideways trades during the European session. The "black gold" was range-bound-to lower during the day...
---
January 16, 2017
We turn bearish below 1198 resistance (Fibonacci retracement, horizontal resistance) as we prepare to see a strong move down to 1176 support (Fibonacci retracement, recent swing low support, Fibonacci projection)...
---