October 30, 2014
---
The US Dollar was back on its rally, supported by a hawkish FOMC. With the Fed's QE3 now officially ended, the Fed citing solid job gains and lesser underutilization of labor resources, despite leaving the "considerable time" in the statement was seen by the markets as less dovish than expected. The USD gained across the board with the EURUSD and GBPUSD losing ground quickly to end the day on a bearish note. There was no press conference after the FOMC statement. Janet Yellen is expected to speak at an event today but her speech is mostly limited to welcome remarks and thus markets cannot expect much from Ms. Yellen today.
The RBNZ held its monthly monetary policy review and left the Kiwi overnight cash rate unchanged at 3.5%. RBNZ Governor, Wheeler did not sway much from his usual narrative, calling the Kiwi Dollar unjustifiably high.
With main key risk events done for the week, markets will focus attention to today's economic data from Eurozone which includes German CPI and US advance GDP data.
Fundamentals Recap – October 29, 2014
FOMC hawkish on US outlook. Ends QE3 with interest rates unchanged
RBNZ holds overnight cash rates unchanged. Calls the Kiwi Dollar, unjustifiably high.
Fundamentals – October 20, 2014
Australia import prices q/q decline -0.8%
UK nationwide HPI m/m to rise 0.4%
German preliminary CPI m/m to decline -0.1%
US advance GDP q/q to rise 3.1%, advance GDP price index to be soft at 2%
EURUSD Daily Pivots
| | |
| --- | --- |
| R3 | 1.2868 |
| R2 | 1.2817 |
| R1 | 1.2728 |
| Pivot | 1.2677 |
| S1 | 1.2584 |
| S2 | 1.2532 |
| S3 | 1.244 |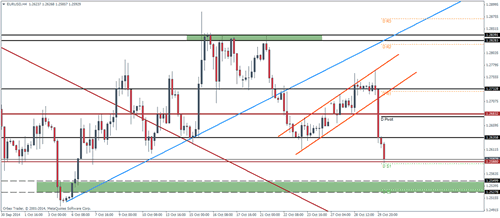 EURUSD broke down from the bearish flag pattern and is currently testing the support levels. The final objective for the bearish flag comes to the region of 1.255 – 1.252 levels. However we cannot rule out a possible rally back towards the break out level slightly above the daily pivot at 1.2711. Upon reaching the objective price between 1.255 and 1.252, we could expect to see a minor bounce coming into play which should ideally set the stage to break down the 1.25 barrier.
USDJPY Daily Pivots
| | |
| --- | --- |
| R3 | 110.238 |
| R2 | 109.596 |
| R1 | 109.184 |
| Pivot | 108.578 |
| S1 | 108.142 |
| S2 | 107.561 |
| S3 | 107.173 |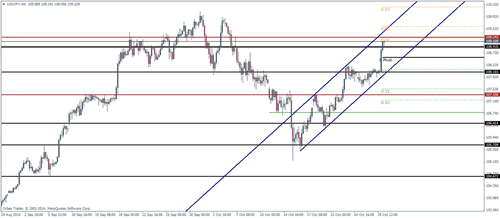 USDJPY broke above the target of 108.75 but is currently near a strong resistance zone. We could expect to see a modest decline towards the daily pivot level in order to find support and perhaps push higher, breaking above the resistance of 109.25.
GBPUSD Daily Pivots
| | |
| --- | --- |
| R3 | 1.6261 |
| R2 | 1.6208 |
| R1 | 1.6114 |
| Pivot | 1.6059 |
| S1 | 1.5941 |
| S2 | 1.5899 |
| S3 | 1.5797 |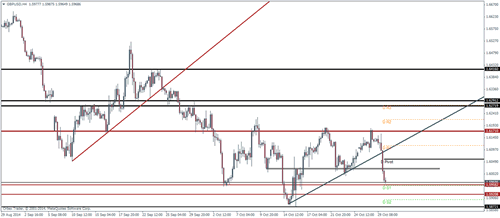 GBPUSD is still within the inverted head and shoulders pattern, especially seen from the daily charts. The above GBPUSD H4 charts show price now trading very close to the left shoulder level. Any declines further will have to stall above the price level near the inverted head. A break below this level could invalidate the inverted head and shoulders pattern and perhaps make room for more declines in GBPUSD. The key risk to watch out for will be the US advance GDP data.
Publication source
---
Orbex information
Orbex reviews
September 26, 2016
The FED did not raise interest rates last week, as it was anticipated by many market participants. It seems like the FED decided to go with status quo and wait until a new American president is elected. We are waiting for a rate hike to take a place in December as it would be logical and a well justified thing to happen...
---
September 26, 2016
Monday's US presidential debate will probably break a new record, not in the S&P 500, but the number of viewers which according to media analyst could reach over 100 million Americans, surpassing Carter-Reagan debate in 1980 which attracted 80.6 million viewers...
---
September 23, 2016
The market is in need of a new narrative. The Fed meeting in December is too far off and for now, the US election is not something that entices excitement. With central banks on hold, markets are pushing the envelope in terms of risk...
---