November 3, 2014
---
Current trend
Last week the American dollar had received support after the meeting of the US FOMC; at the same time, the pair EUR/USD has weakened and continues to remain under pressure. Follow-up statements of the US Fed were sharper than expected by investors. The latest statistics also showed that growth rate is at the same level.
This trading week the pair had started with the downward movement and quickly reached new local lows. The difference between growth rate of the American and European economies are increasing. The data, which will be released this week, will probably confirm this fact.
Today, business activity index in the US manufacturing sector for October will become known. On Wednesday, business activity index in the service sector for the same period. At the end of the week, the US labor market data will traditionally become known. Forecast for the labor market is below the previous level. However, if the new index reaches the level of the previous month, American currency will receive significant support.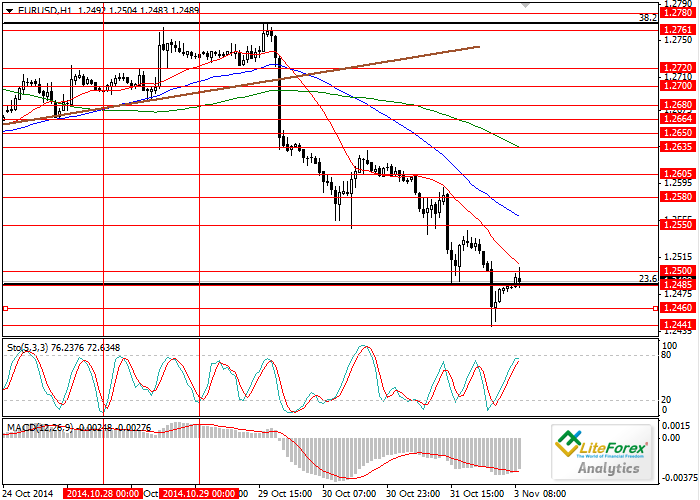 Levels of support and resistance
Resistance levels: 1.2500, 1.2550, 1.2580 and 1.2600. The main target of the "bulls" is to consolidate above the level of 1.2500.
Support levels: 1.2485, 1.2460 and 1.2440.
Trading tips
It is recommended to open long positions above the level of 1.2550 with the target of 1.2650. Sell positions can be opened at the level of 1.2440, do not forget to place protective orders.
Ilya Lashenko
LiteForex Investments Limited Analyst
Publication source
---
LiteForex information
LiteForex reviews
September 28, 2016
US Dollar can't get out of the range of 95.00-95.50 after the FED has investors waiting for the results of Algiers meeting, where Oil officials will try to work out measures to level energy market volatility...
---
September 28, 2016
As discussed yesterday, markets will increasingly obsess about the US election over the coming few weeks, but beneath that the economy will determine if the Fed hikes interest rates before the year is out...
---
September 28, 2016
Financial markets may experience extreme levels of volatility in the coming weeks as the catalytic combination of sporadic oil prices, ongoing Brexit anxieties and anticipation ahead of the U.S presidential election leave investors on edge...
---