November 12, 2014
---
Yesterday's trading session was quiet with lack of fundamentals and the North American session closed on account of Veteran's day. However, the Yen pairs were the news makers as the currency weakened considerably on rumors of Japanese Premier Shinzo Abe calling for snap elections in December and speculation of a delay to the proposed sales tax hike according to news reports from a local news outlet.
The Yen turned around this morning as Japan's Chief Cabinet Minister Yoshihide Suga said that they were not preparing for any elections and neither was there any proposal to delay the sales tax hike.
Late last night, the RBNZ released its financial stability report. The Kiwi Dollar managed to strengthen as the report served to remind that markets of the tightening cycle and that the RBNZ was prepared to raise interest rates when necessary. Governor Wheeler however did mention that the Kiwi dollar was unjustifiably high and future declines will be based on significant appreciation of the US Dollar.
Fundamentals Recap – November 11, 2014
Australia NAB business confidence at 4, down from 5 the previous month
Australia HPI q/q 1.5% vs. 1.6% estimates
Japan consumer confidence declines to 38.9; Economy watchers sentiment 44 vs. 49.2
RBNZ Financial stability report and speech by RBNZ Governor Wheeler
Fundamentals – November 12 2014
Australia Westpac consumer confidence rises 1.9% vs. 0.9% previously
Australia quarterly wage price index 0.6%, in line with estimates
UK Average earnings index 3m/y expected to rise 0.9%, unemployment rate expected to improve to 5.9%
Eurozone industrial production m/m to rise 0.7%, industrial production y/y to decline -0.2%
BoE Inflation report hearing and speech by Mark Carney
US wholesale inventories to be soft at 0.2%
EURUSD Daily Pivots
| | |
| --- | --- |
| R3 | 1.2621 |
| R2 | 1.2559 |
| R1 | 1.2516 |
| Pivot | 1.2454 |
| S1 | 1.2411 |
| S2 | 1.235 |
| S3 | 1.2307 |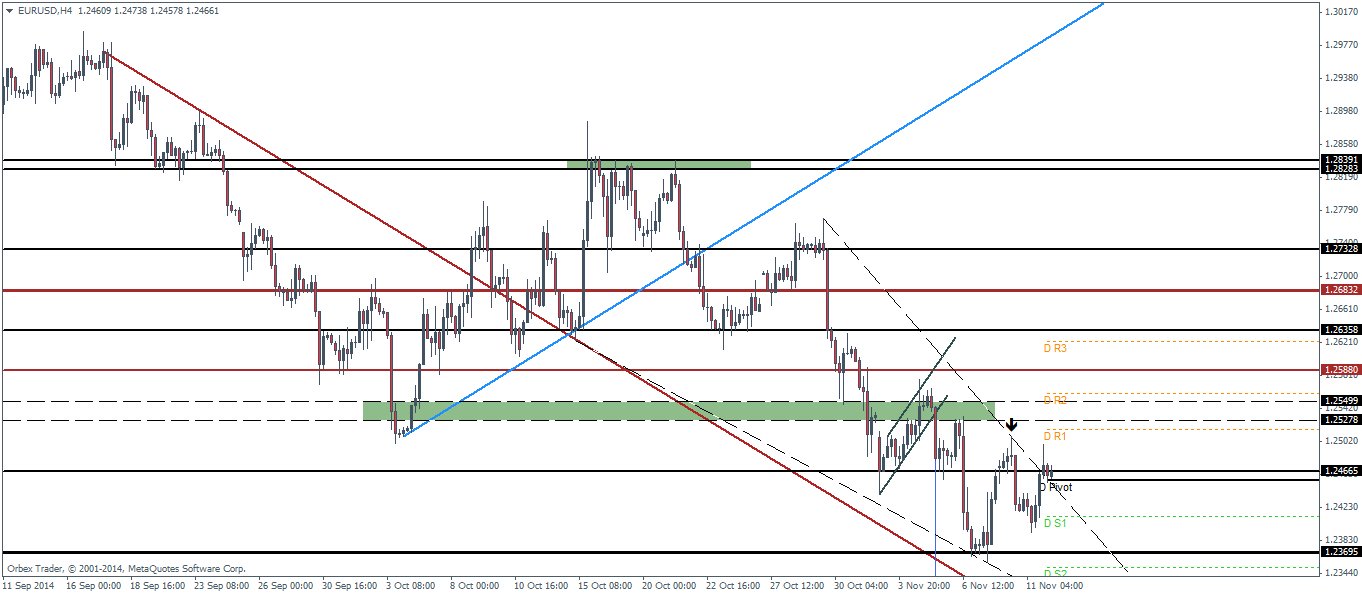 EURUSD managed to close higher in a turnaround towards the US session, forming a higher low. The pair now trades as a critical level as seen from the above charts, in what looks to be shaping out to be a falling wedge pattern with a potential to the upside. However, resistance near 1.2527 needs to be cleared to aim for further upside gains. Alternatively, a close below the daily support level 1 at 1.2411 is required for the EURUSD to position itself for more declines.
USDJPY Daily Pivots
| | |
| --- | --- |
| R3 | 117.844 |
| R2 | 116.974 |
| R1 | 116.377 |
| Pivot | 115.507 |
| S1 | 114.906 |
| S2 | 114.040 |
| S3 | 113.433 |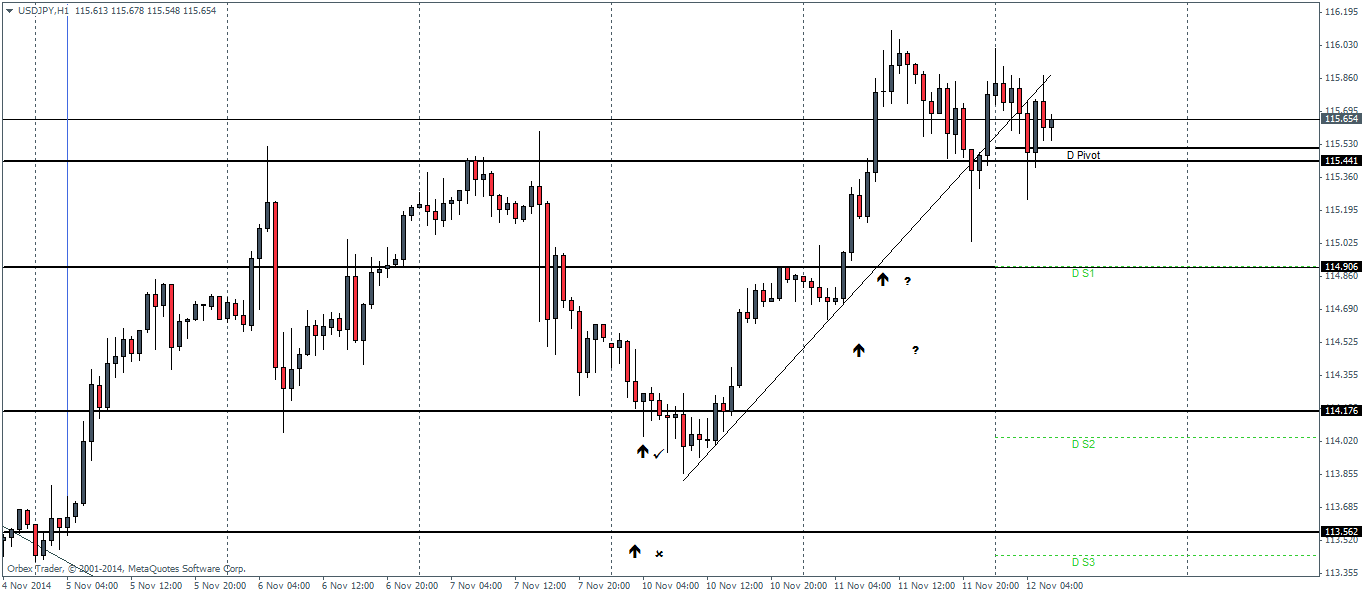 While the Yen weakened yesterday's today's news seems to have breathed some life in the Yen. In the above chart, we notice the minor trend line being broken and retested which if validated by a close below today's pivot could see USDJPY decline towards the daily support 1 level at 114.91. The risks however come from the fact that the latest price action is forming a bullish flag pattern, which itself could be invalidated on a decline to 114.91. Alternatively, a rally above 115.9 region could see further upside gains on the cards for USDJPY.
GBPUSD Daily Pivots
| | |
| --- | --- |
| R3 | 1.6073 |
| R2 | 1.6008 |
| R1 | 1.5962 |
| Pivot | 1.5899 |
| S1 | 1.5853 |
| S2 | 1.5788 |
| S3 | 1.5742 |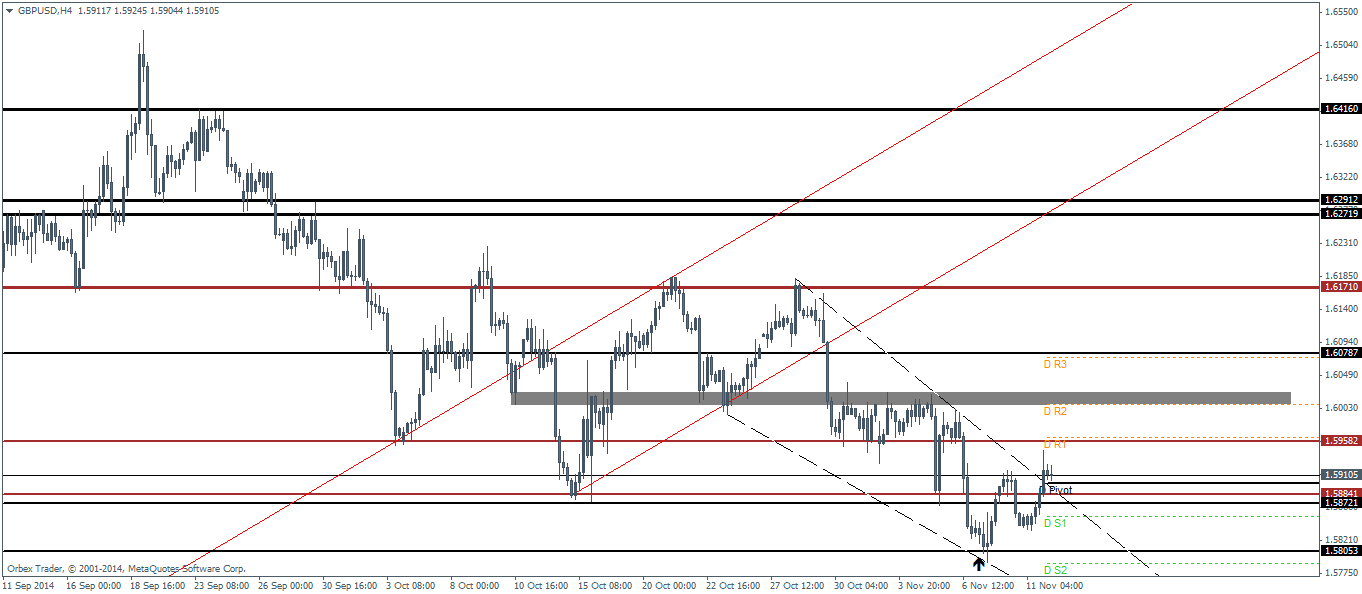 GBPUSD's price action is somewhat akin to that of the EURUSD but with the key risks coming from today's unemployment data and the BoE inflation hearing. Key resistance at 1.6 levels will have to be cleared for any possibility of further upside gains, while a close below the daily support level 1 at 1.5835 is essential to pave way for declines towards the target of 1.574.
Guest post by Orbex
Publication source
---
Orbex information
Orbex reviews
February 22, 2017
Oil prices have been coiling for several weeks now with both contracts spending most of their time in a tight four dollar range...
---
February 22, 2017
The US radiant future under the Trumpnomics remains a hot topic for speculation, propelling the greenbacks demand. More and more investors are trying to hop on the Dollars gravy train, as caution is lowered...
---
February 22, 2017
Sustained break above the 57.50 region is seen as minimum requirement needed to confirm bullish resumption. Once we break above the 57.50 hurdle, we think that the 58.50 level will be next. Meanwhile, we do not exclude a minor correction towards 56.50 dollars per barrel...
---