November 27, 2014
---
Current trend
At yesterdays trading session the price of crude oil Brent fell below $77 per barrel, which is the lowest level since August 2010. Oil price goes down prior to OPEC meeting, which will be held in Vienna. Market participants fear that Ministers of OPEC countries will not be able to come to agreement about reduction of the oil production in order to stabilize oil prices. At the recent meeting, representatives of the Saudi Arabia failed to reach agreement with Venezuela and Mexico concerning the reduction of the oil production. Saudis insist that market can adjust prices without external influence. Amid such facts the price of Brent is rapidly decreasing.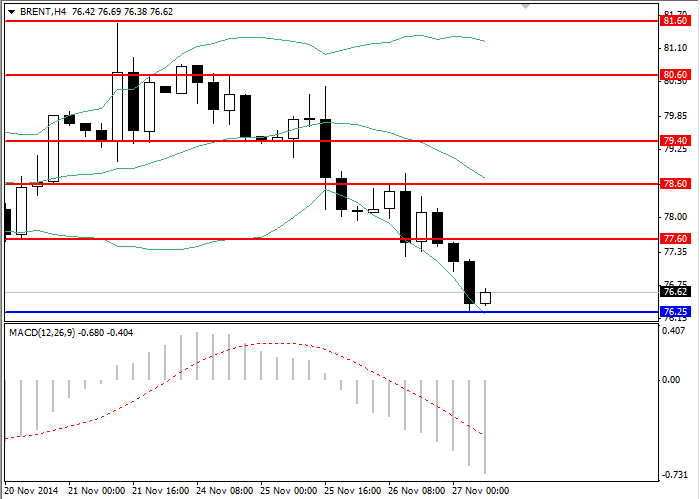 Support and resistance
Support levels: 76.25, 75.00, 74.00 and 73.00.
Resistance levels: 77.60, 78.60, 79.40, 80.60 and 81.60.
Trading tips
The key fact, which will determine movement direction in Brent for the near future will be OPEC meeting. If the decision to reduce oil production will be adopted, the price of oil will go up. Otherwise, the decline in price will continue.
Vadim Smarzh,
Analyst of LiteForex Investments Limited
Publication source
---
LiteForex information
LiteForex reviews
December 8, 2016
It seems that everything is clear the ECB will extend its asset-purchasing program, and send the euro lower. But banks smell a rat in this announcement. The ECB should introduce more easing measures...
---
December 8, 2016
The currency market has lost some volume, as traders are closing their positions ahead of Christmas and New Year's celebrations. Investment funds are in no hurry to open new positions; they rather prefer to be actively trading in January...
---
December 7, 2016
The yield of the Italian sovereign debt fell on Tuesday as the focus moved to the political uncertainty on the market. After Renzi's crash on the weekend and the expectations of the ECB measures to deal with the possible fallout of the financial markets...
---