December 8, 2014
---
Current trend
At the beginning of the last week the USD had considerably weakened against the major currencies; however favourable US labor market data provided support to the American currency. Nonfarm payroll has exceeded the forecast and the pair GBP/USD fell to the key support level and the local lows of 1.5600. Last week trading session closed at the level of 1.5570. At this week opening session the pair continued to move down by inertia and is now trading at the level of 1.5550. We do not expect any important UK or US news today, which news that the pair will consolidate and high volatility is unlikely.
Levels of support and resistance
It is expected that the pair will undergo minor upward correction and then will move in the sideways channel. Next key support level is 1.5410, which is also a bottom limit of the downward channel and the local lows of August 2013. In the medium-term it is likely that the pair will go down to the target levels of 1.5410 and 1.5275.
Support levels: 1.5550, 1.5500, 1.5470, 1.5410, 1.5300 and 1.5275.
Resistance levels: 1.5600, 1.5630, 1.5670,1.5720, 1.5750, 1.5790, 1.5875 and 1.5910.
Trading tips
In the current situation it makes sense to open short positions with stop-loss above the level of 1.5600 and take profit at 1.5410.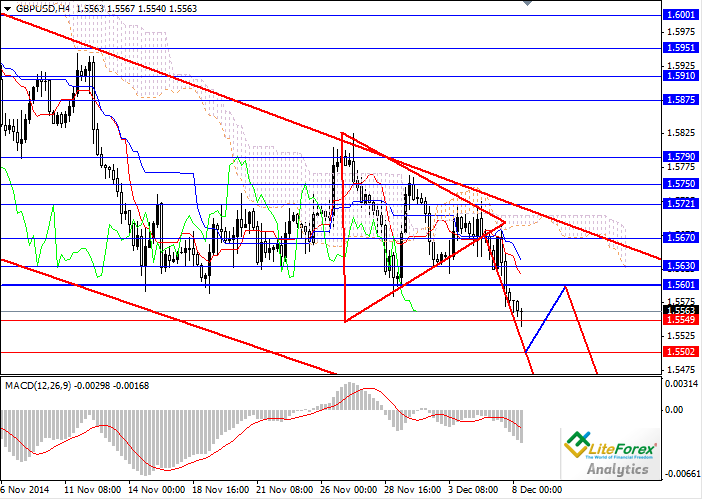 Dmitry Likhachev,
Analyst of LiteForex Investments Limited
Publication source
---
LiteForex information
LiteForex reviews
October 24, 2016
Gold prices traded mixed on Friday. The yellow metal traded lower the half of the day and higher the other half. Sellers moved the price to the level 1260 dollar per ounce which appeared a solid barrier for it. The pair bounced from the level and reversed some of its losses...
---
October 24, 2016
A pretty robust U.S. corporate announcements last week indicated that there's a high chance for corporate America to get out of a profit recession which lasted for five consecutive quarters...
---
October 21, 2016
On Friday, gold dropped during Asia trade amid a strengthening greenback as well as surging chances of a rate hike weighing on the hedge commodity...
---