December 8, 2014
---
Current trend
At the beginning of the last week the USD had considerably weakened against the major currencies; however favourable US labor market data provided support to the American currency. Nonfarm payroll has exceeded the forecast and the pair GBP/USD fell to the key support level and the local lows of 1.5600. Last week trading session closed at the level of 1.5570. At this week opening session the pair continued to move down by inertia and is now trading at the level of 1.5550. We do not expect any important UK or US news today, which news that the pair will consolidate and high volatility is unlikely.
Levels of support and resistance
It is expected that the pair will undergo minor upward correction and then will move in the sideways channel. Next key support level is 1.5410, which is also a bottom limit of the downward channel and the local lows of August 2013. In the medium-term it is likely that the pair will go down to the target levels of 1.5410 and 1.5275.
Support levels: 1.5550, 1.5500, 1.5470, 1.5410, 1.5300 and 1.5275.
Resistance levels: 1.5600, 1.5630, 1.5670,1.5720, 1.5750, 1.5790, 1.5875 and 1.5910.
Trading tips
In the current situation it makes sense to open short positions with stop-loss above the level of 1.5600 and take profit at 1.5410.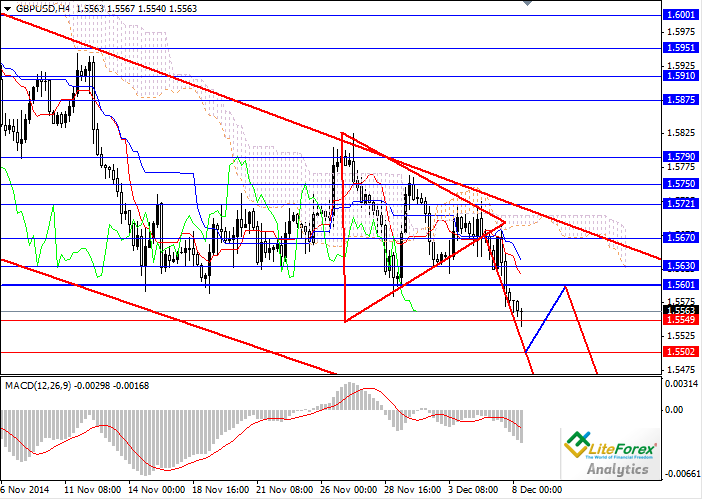 Dmitry Likhachev,
Analyst of LiteForex Investments Limited
Publication source
---
LiteForex information
LiteForex reviews
September 23, 2016
The market is in need of a new narrative. The Fed meeting in December is too far off and for now, the US election is not something that entices excitement. With central banks on hold, markets are pushing the envelope in terms of risk...
---
September 23, 2016
On Friday, the evergreen buck regained some ground against other key currencies, as markets kept digesting the Fed's latest policy decision...
---
September 23, 2016
The US Dollar rebounds after a substantial selloff led by the FOMC decision to leave the interest rate unchanged. The Dollar index, which tracks the US currency against major peers, recoiled with support at a 95.00 level on Thursday, adding 0.05% to the 95.36 price in the early Friday session...
---