January 19, 2015
---
Despite all the SNB-inspired doom and gloom feeling at the end of last week, Germany's DAX index was able to stage a sharp rally and climb to fresh unchartered territories. Sentiment has been lifted by expectations that a full-blown QE stimulus programme is on the way from the ECB on Thursday, but whether or not this has now been fully priced in remains to be seen. In fact, there is now significant scope for disappointment. Even if the ECB does announce QE, the size and structure of it may not please the market. Indeed, traders are a bit hesitant to get too aggressive at the start of this week – especially on this US data-void session – and as a result are exercising a bit of caution. There are also some key economic data on the way later this week, providing more reason to be vigilant. Among the most important will be China's GDP and industrial production numbers early on Tuesday, followed by the outcome of the German ZEW economic sentiment survey during the European session. On Wednesday, we will have the Bank of Japan's policy decision, followed by some UK jobs and US housing market data. There will be lots of PMI numbers on Friday as well as UK retail sales and some second-tier US data.
Ahead of all of those, the DAX future has come off its best levels after extending its rally on Friday evening after the European markets had closed. As can be seen on the chart, the index has entered a Fibonacci-based exhaustion area between 10280 (161.8% of XA) and 10335 (127.2% of BC). In other words, this is the point D of a Bearish Butterfly pattern. As a result, the index could retreat a lot further from here, potentially towards the previous record high around 10100, before making its next move. Below 10100, the next major support sits around 9935. It is also worth watching the 38.2% (9970) and 61.8% (9745) Fibonacci retracement levels from point D, which are not drawn on the chart. Nevertheless, the path of least resistance is to the upside and as such further gains could be on the way once this phase of profit-taking is over. The longer term technical outlook is also bullish, not least because the index is trading at or near the record high and inside a bullish channel. What's more, with the 50-day SMA moving above the 200 recently, the DAX has created a "golden crossover," which is another bullish development.
Figure :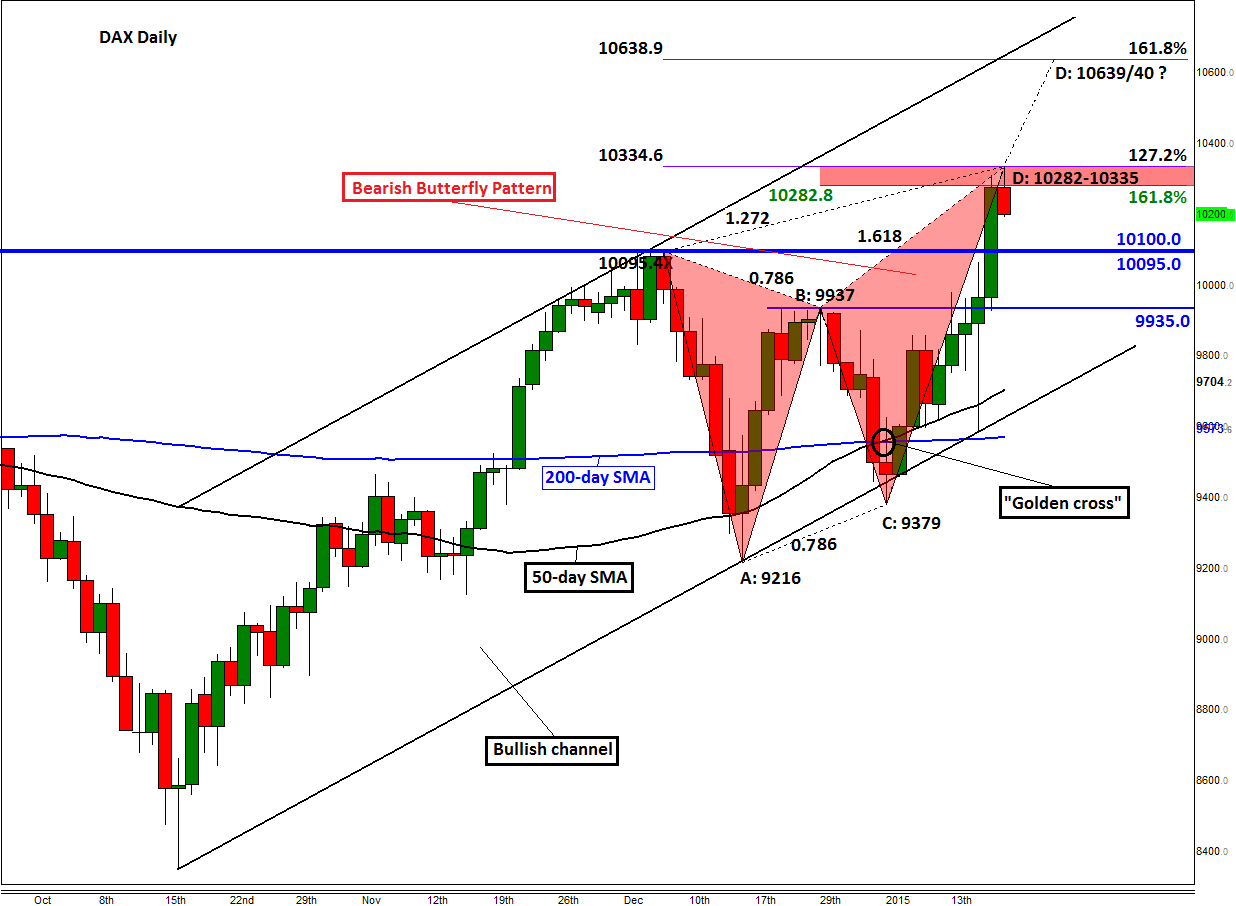 Publication source
---
FOREX.com information
FOREX.com reviews
September 27, 2016
Having obsessed about an event that did not happen this month (a Fed tightening), markets now turn to obsessing about an event that will happen, namely a change of US President...
---
September 27, 2016
The oil prices start the week on an upbeat note as the informal OPEC meeting may end with a positive agreement for the oil market, which could resolve in production kerbs and freeze said the Algeria's Energy Minister on Sunday...
---
September 27, 2016
It's been an interesting start to the week as politics is looking likely to take centre stage amongst a market which is becoming increasingly worried over the result of the US presidential election...
---