January 23, 2015
---
EURUSD
Sell on a level breakthrough of 1.1313 with 1.1213 target. Stop loss = 1.1363.
Reason for the trading strategy
Yesterday, the ECB announced the launch from March 2015 to September 2016 of the quantitative easing program in the euro zone, totaling 1.14 trillion the euro, which is 2 times higher than market expectations. As a result of a substantial softening of monetary policy in the euro zone, the euro collapsed.
EURUSD, H4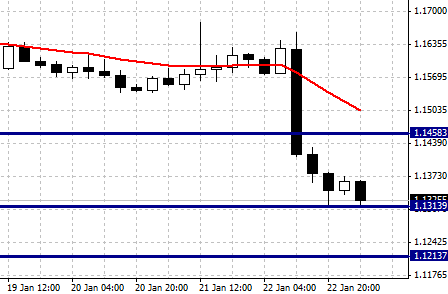 Publication source
---
EXNESS information
EXNESS reviews
September 26, 2016
The FED did not raise interest rates last week, as it was anticipated by many market participants. It seems like the FED decided to go with status quo and wait until a new American president is elected. We are waiting for a rate hike to take a place in December as it would be logical and a well justified thing to happen...
---
September 26, 2016
Monday's US presidential debate will probably break a new record, not in the S&P 500, but the number of viewers which according to media analyst could reach over 100 million Americans, surpassing Carter-Reagan debate in 1980 which attracted 80.6 million viewers...
---
September 23, 2016
The market is in need of a new narrative. The Fed meeting in December is too far off and for now, the US election is not something that entices excitement. With central banks on hold, markets are pushing the envelope in terms of risk...
---