The pair has moved briskly past three weekly highs this week. The move comes after it formed what looks to be a higher weekly low now that the pair has closed above the resistance levels. This is the first time GBPUSD has been able to close above so many weekly highs since the downtrend began in July last year. Even though the weekly candle is still inside the regression channel such strength signals a turnaround in this pair. This is even more likely as the move comes from levels that were able to stop the decline and turn the market into an uptrend in 2013. Stochastics are edging higher and the support and resistance levels are: 1.4954 weekly low and 1.5541 weekly low in proximity of the 23.6% Fibonacci level.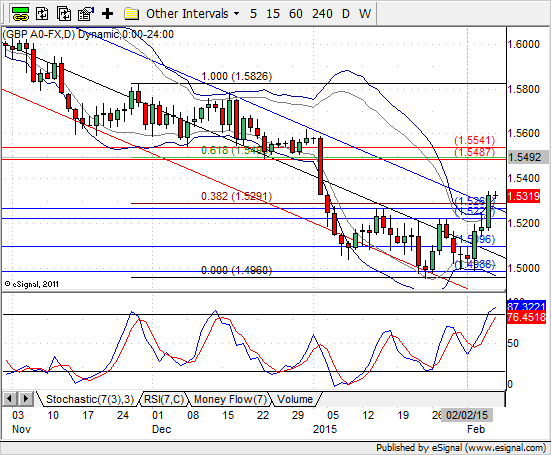 GBPUSD, Daily
The pair has broken out of the descending regression channel. I tweeted yesterday that GBPUSD was at resistance and looking weak. The reasoning behind this was that the candle from day before was a shooting star candle and the hourly chart yesterday showed signs of momentum reversal just below the 1.5269 resistance and the daily Bollinger bands. These indications proved to be wrong and the price shot higher through the resistance. All this put together indicates that the market is pretty firmly in the hands of the bulls. The former resistance levels are now likely to be supports. The current support and resistance levels identified from the daily chart are: 1.4988, 1.5096, 1.5224, 1.5269 and 1.5487 1.5541. The 38.2% and 61.8% Fibonacci levels coincide with 1.5269 support and 1.5487 resistances. Stochastics are getting into the overbought area.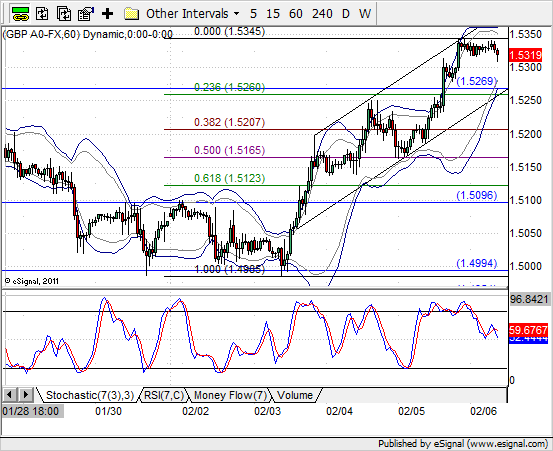 GBPUSD, 60 min
The hourly trend is higher with price at the upper end of the bull channel. The 1.5269 coincides with the lower end of the channel and with the Bollinger Bands. In addition, the 23.6% Fibonacci level is also in the proximity of the channel bottom. The other potential levels are the Fibonacci retracements and the 1.5096 support level should there be a deeper retracement. It always pays to look for momentum reversal signals once price comes back to the levels.
Conclusion:
With such a show of strength the only logical conclusion is to look for buying opportunities until we have price action based evidence to the contrary. Retracements to support levels should be monitored for momentum reversal signals. Levels that have several technical factors supporting the trade idea are always more likely to provide us with good trade entries. In this regard the 1.5260 to 1.5270 region is interesting but should today's US Non-Farm Payroll figure deviate strongly from the expectations then we could see increased volatility and the lower levels could come into play. For successful swing entries I would be looking the 1.5487 to 1.5541 the target area.
Janne Muta
Chief Market Analyst
HotForex