February 6, 2015
---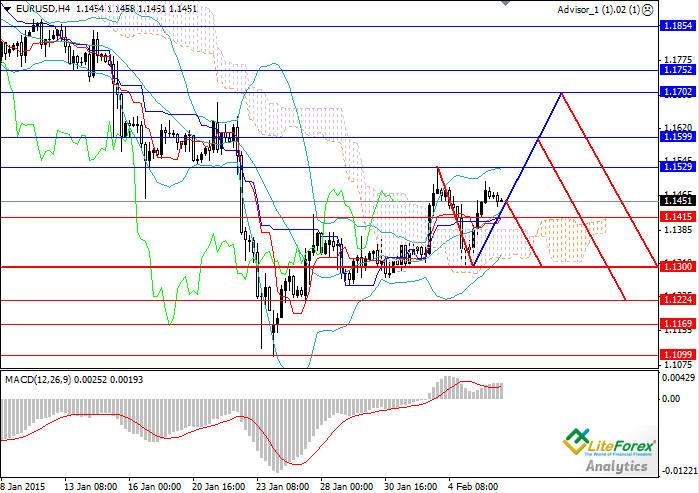 Current trend
The EUR/USD dropped to a support level of 1.1300 and, having failed to overcome it, rose again to a local maximum at 1.1530. The growth of the pair signals an increase in demand for the European currency. Besides, strong data on German production orders released yesterday exceeded the forecast more than twofold. These are the fundamental factors that the euro had lacked to start recovering.
However, despite today's negative data on the eurozone's manufacturing production, the pair is staying close to a local maximum. The dollar, in its turn, is not as aggressive as before. The demand for the American currency is fading, and investors are waiting for a slowdown in the US economy growth rates. The data on the US labour market has showed negative dynamics for the first time over the last months.
The data on non-farm payrolls and unemployment rate in the USA are worth particular attention today.
Support and resistance
Realization of negative forecasts for NFPR may open the EUR/USD a way to new local maximums. A breakout of the level 1.1700 may point to a trend reversal. On the other hand, the European economy is still very weak and this will undoubtedly increase pressure on the pair at the levels 1.1600 and 1.1700. The volume of short positions at these levels will be increasing considerably.
Approaching a level of 1.1700 may shift to declining to a level of 1.1415 and key support level of 1.1300.
Support levels: 1.1415, 1.1300, 1.1170, 1.1100, 1.1050, 1.0990.
Resistance levels: 1.1530, 1.1600, 1.1700, 1.1750, 1.1855, 1.1900.
Trading tips
We recommend opening pending short positions from the levels 1.1600 and 1.1700 with profit fixing at 1.1300 and at 1.1100 in the medium term. Losses should be limited above a level of 1.1700.
Dmitry Likhachev
Analyst at LiteForex Investment Limited
Publication source
---
LiteForex information
LiteForex reviews
September 30, 2016
The global equities rally led by the gains in the energy sector after the OPEC members cut a deal in Algiers, despite the market scepticism and repeated statements that the Oil officials in Iran and Saudi Arabia are not able to find a middle ground in the current conditions...
---
September 30, 2016
In a huge surprise to the market, members of the Opec cartel agreed to cut production by as much as 700,000 barrels a day with some predicting that this may be the start of a new upward trend for oil...
---
September 30, 2016
Brent rose in the European session after a surprised OPEC decision to cut oil output. Moreover, a draw in U.S. crude stocks gave an additional support for oil prices...
---