March 3, 2015
---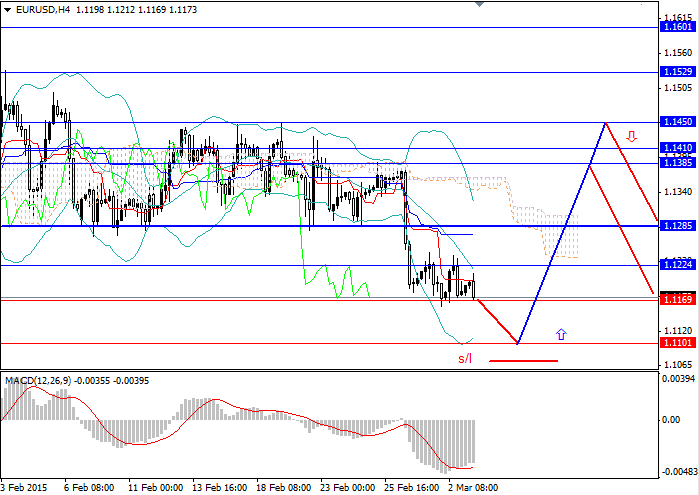 Current trend
The European currency weakened substantially against the dollar in the middle of the previous week. The euro came under pressure owing to weak macroeconomic data on the eurozone's key economic sectors and a growing demand for dollars ahead of a probable interest rate rise. The EUR/USD fell below the key support of 1.1285, almost reaching a recent low at 1.1100. In spite of the drop of the eurozone's unemployment rate, the pair continues to fluctuate inertly at about 1.1100. It's worth noting that a number of important statistics for the USA and the eurozone will be released this week. Besides, ECB Head Mario Draghi's statement scheduled for Thursday may raise demand for the European currency.
Support and resistance levels
In the medium term, the pair may drop to a local low at 1.1100 whose breakdown is hardly possible. The unexplainable demand for the dollar and weak macroeconomic statistics for all US economic sectors show that the overbought dollar will lose ground soon. An upward correction movement may reach the levels of 1.1285 and 1.1385. But remember that the trend is still downward and you should place Stop Loss orders when opening long positions. Once the correction is completed, an increase in short positions will be relevant again.
Support levels: 1.1170, 1.1100, 1.1050, 1.1000.
Resistance levels: 1.1225, 1.1285, 1.1385, 1.1410, 1.1450, 1.1530.
Trading tips
We recommend opening long positions at current price and from the level of 1.1100 with a short Stop Loss and Take Profit at 1.1285 and 1.1386. Once the key resistance levels at 1.1385, 1.1450, and 1.1530 are reached, the volume of short positions may be increased.
Dmitry Likhachev
Analyst at LiteForex Investment Limited
Publication source
---
LiteForex information
LiteForex reviews
October 24, 2016
Gold prices traded mixed on Friday. The yellow metal traded lower the half of the day and higher the other half. Sellers moved the price to the level 1260 dollar per ounce which appeared a solid barrier for it. The pair bounced from the level and reversed some of its losses...
---
October 24, 2016
A pretty robust U.S. corporate announcements last week indicated that there's a high chance for corporate America to get out of a profit recession which lasted for five consecutive quarters...
---
October 21, 2016
On Friday, gold dropped during Asia trade amid a strengthening greenback as well as surging chances of a rate hike weighing on the hedge commodity...
---