5 March, 2015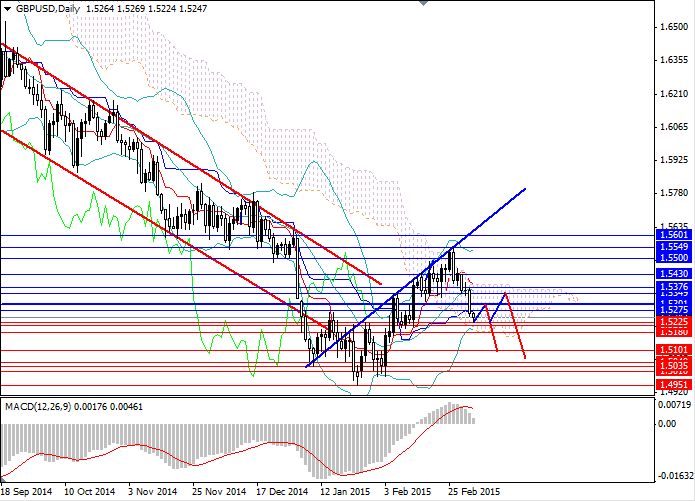 Current trend
All major currencies, including the pound, were under pressure on Wednesday owing to the dollar strengthening against a backdrop of US upbeat statistics. Besides, UK service sector PMI dropped to 56.7 despite positive forecasts of 57.6.
Today, the pair has reached a level of 1.5225 and then has slightly corrected upwards. The Bank of England's decision on interest rates and volumes of the bond purchase program along with Mark Carney's statement are worth attention out of today's all fundamental releases. Eurozone key statistics will be released later on. Should they be weak, the dollar will have additional support. Finally, the USA will publish the Non Farm Productivity index.
It is hard to define a further movement when almost all depends on fundamental catalysts, but remember that the trend reversal was not successful, and the downtrend prevails at the moment. Bank of England's decision on interest rates will hardly affect the pair substantially, but Carney's statement could either strengthen the pound or put extra pressure on it. However, US statistics can define a further trend and provoke high volatility. If today's data proves to be upbeat, the dollar will strengthen significantly.
Support and resistance
In the medium term, wait for the US currency to strengthen and the GBP/USD to drop to key support levels at 1.5180, 1.5100. A low at 1.4950 last seen at the end of January can be tested in the long term,
Support levels: 1.5225, 1.5200, 1.5180, 1.5100, 1.5060, 1.5035, 1.5010, 1.4950.
Resistance levels: 1.5275, 1.5350, 1.5375, 1.5430, 1.5500, 1.5550, 1.5600.
Trading tips
Open short positions from the key resistance levels 1.5275, 1.5300, 1.5375 with profit fixing at 1.5100-1.4950.
Dmitry Likhachev
Analyst at LiteForex Investment Limited
---
---