March 6, 2015
---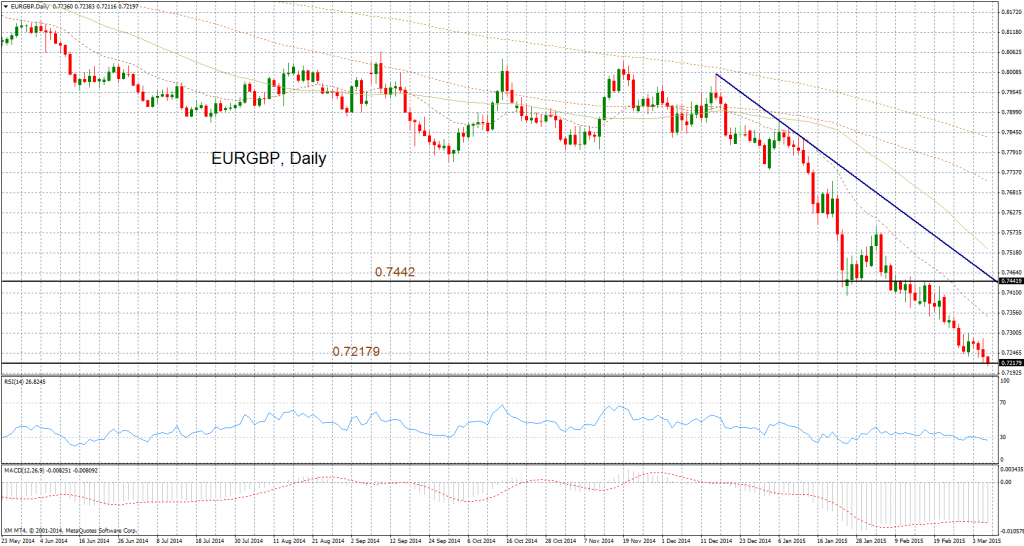 The euro has been dropping against all the major currencies – even against the currency of Eurozone neighbor Britain.
The euro recently made a fresh 7-year low (since December of 2007) and is looking to extend its drop below 70 pence, which would be its lowest since November of 2007. Below 0.70, there could be a test of 0.65, which would be a new 12-year low. The all-time low since the euro's inception was around 57 pence.
The pair has been in steep downtrend since mid-December of 2014, as it has fallen from the 80 pence level to the present 0.7220. This represents a big move in a near 3-month period.
The prospects for the euro remain bearish, although the MACD is giving an indication that the pair is oversold. The 14-day RSI at 26 is also oversold, but it is not unusual in very strong down moves for the RSI to move below 30.
If there is an upward correction, the pair could challenge the downtrend line at around 0.74-0.7450, which is also the 3-week high.
To sum up, the euro has further downside, despite the very steep drop it has had lately, which could provoke some consolidation and bargain-hunting.
Publication source
---
XM information
XM reviews
October 27, 2016
On Thursday, the British pound sagged against the greenback, notwithstanding data on third quarter growth showing that Britain's economy shrugged off the immediate shock of the Brexit referendum...
---
October 27, 2016
The US dollar has taken a bit of a breather this week as it consolidates its recent gains ahead of major economic data and events in coming days. For around a month, the greenback has been on an exceptionally sharp incline as expectations for a Federal Reserve rate hike this year have progressively increased...
---
October 27, 2016
WTI Crude received a pummelling on Tuesday with prices sinking below $49.50 after reports displayed an inflated rise in U.S inventories which revived concerns over the excessive oversupply in the markets...
---