March 6, 2015
---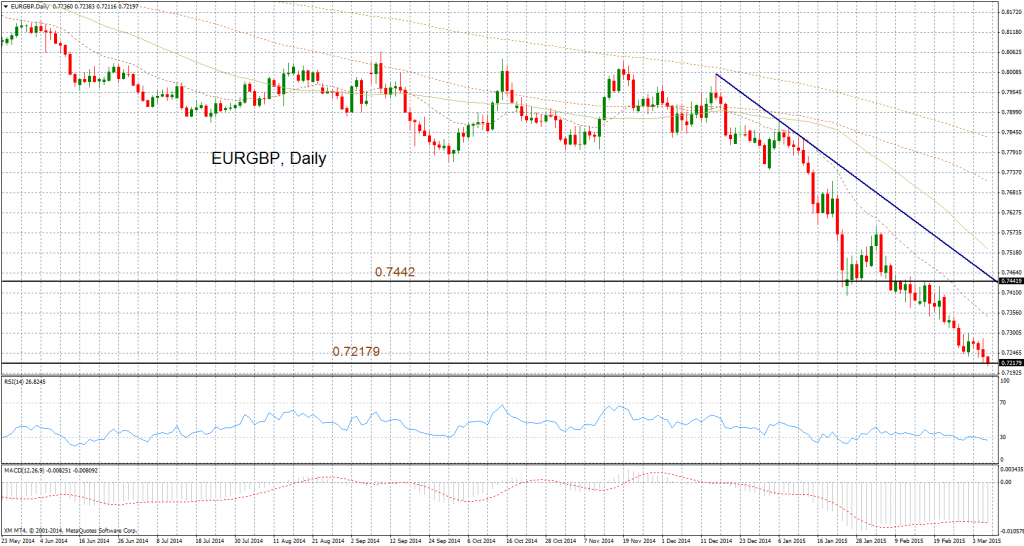 The euro has been dropping against all the major currencies – even against the currency of Eurozone neighbor Britain.
The euro recently made a fresh 7-year low (since December of 2007) and is looking to extend its drop below 70 pence, which would be its lowest since November of 2007. Below 0.70, there could be a test of 0.65, which would be a new 12-year low. The all-time low since the euro's inception was around 57 pence.
The pair has been in steep downtrend since mid-December of 2014, as it has fallen from the 80 pence level to the present 0.7220. This represents a big move in a near 3-month period.
The prospects for the euro remain bearish, although the MACD is giving an indication that the pair is oversold. The 14-day RSI at 26 is also oversold, but it is not unusual in very strong down moves for the RSI to move below 30.
If there is an upward correction, the pair could challenge the downtrend line at around 0.74-0.7450, which is also the 3-week high.
To sum up, the euro has further downside, despite the very steep drop it has had lately, which could provoke some consolidation and bargain-hunting.
Publication source
---
XM information
XM reviews
February 20, 2017
The dramatical event looms large for Pound, which can sweep the British currency off its feet – the official exit from the EU. The Prime Minister Theresa May said that the process can be initiated as close as possible to the EU summit in Brussels, scheduled to take place on 9-10 March...
---
February 20, 2017
Despite the overall positive outlook the yellow metal seems to be having problems with its further advance. Inability to move higher may return some selling pressure to markets. Sellers' profit targets lie at 1230 and 1220 levels...
---
February 17, 2017
The New Zealand dollar has found itself under pressure in recent days as the market has started to hedge a little while it waits on the next steps for the US economy...
---