March 6, 2015
---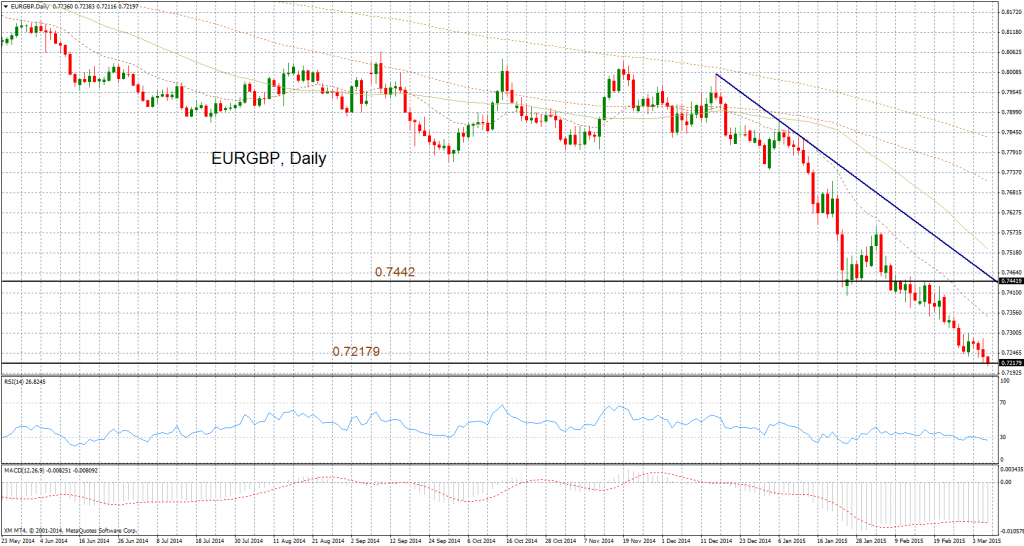 The euro has been dropping against all the major currencies – even against the currency of Eurozone neighbor Britain.
The euro recently made a fresh 7-year low (since December of 2007) and is looking to extend its drop below 70 pence, which would be its lowest since November of 2007. Below 0.70, there could be a test of 0.65, which would be a new 12-year low. The all-time low since the euro's inception was around 57 pence.
The pair has been in steep downtrend since mid-December of 2014, as it has fallen from the 80 pence level to the present 0.7220. This represents a big move in a near 3-month period.
The prospects for the euro remain bearish, although the MACD is giving an indication that the pair is oversold. The 14-day RSI at 26 is also oversold, but it is not unusual in very strong down moves for the RSI to move below 30.
If there is an upward correction, the pair could challenge the downtrend line at around 0.74-0.7450, which is also the 3-week high.
To sum up, the euro has further downside, despite the very steep drop it has had lately, which could provoke some consolidation and bargain-hunting.
Publication source
---
XM information
XM reviews
December 8, 2016
It seems that everything is clear the ECB will extend its asset-purchasing program, and send the euro lower. But banks smell a rat in this announcement. The ECB should introduce more easing measures...
---
December 8, 2016
The currency market has lost some volume, as traders are closing their positions ahead of Christmas and New Year's celebrations. Investment funds are in no hurry to open new positions; they rather prefer to be actively trading in January...
---
December 7, 2016
The yield of the Italian sovereign debt fell on Tuesday as the focus moved to the political uncertainty on the market. After Renzi's crash on the weekend and the expectations of the ECB measures to deal with the possible fallout of the financial markets...
---