March 6, 2015
---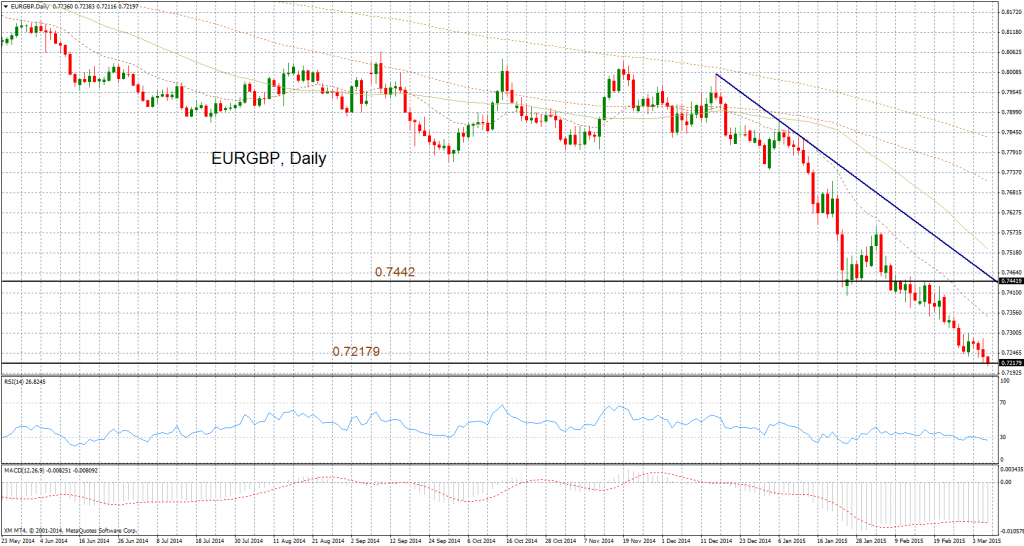 The euro has been dropping against all the major currencies – even against the currency of Eurozone neighbor Britain.
The euro recently made a fresh 7-year low (since December of 2007) and is looking to extend its drop below 70 pence, which would be its lowest since November of 2007. Below 0.70, there could be a test of 0.65, which would be a new 12-year low. The all-time low since the euro's inception was around 57 pence.
The pair has been in steep downtrend since mid-December of 2014, as it has fallen from the 80 pence level to the present 0.7220. This represents a big move in a near 3-month period.
The prospects for the euro remain bearish, although the MACD is giving an indication that the pair is oversold. The 14-day RSI at 26 is also oversold, but it is not unusual in very strong down moves for the RSI to move below 30.
If there is an upward correction, the pair could challenge the downtrend line at around 0.74-0.7450, which is also the 3-week high.
To sum up, the euro has further downside, despite the very steep drop it has had lately, which could provoke some consolidation and bargain-hunting.
Publication source
---
XM information
XM reviews
January 18, 2017
Trump hinted in his interview to the Financial Times that the US Dollar went for a far too extensive rally and the enthusiasm surrounding the bulls needs to be cooled...
---
January 18, 2017
We are going to see some central bank action (Canada) and hear from some Fed members and the chairwoman today. Apart from that we will get more information on the UK labor market and a data package from the US, including CPI for December and industrial output...
---
January 18, 2017
The Australian dollar swung heavily today as US bulls finally looked to sell off in the wake of economic uncertainty around the United Kingdom...
---