March 11, 2015
---
Sell on a level breakthrough of 0.7227 with 0.7175 target. Stop loss = 0.7277.
Reason for the trading strategy
In January, the volume of industrial production in China decreased from 7.9% (y/y) to 6.8% (y/y), investment in fixed assets decreased from 15.7% (y/y) to 13.9% (y/y), and retail sales decreased from 11.9% (y/y) to 10.7% (y/y). The data reflects a decline in the business activity in the largest Asian economy, which could put pressure on commodity assets.
NZDUSD, H4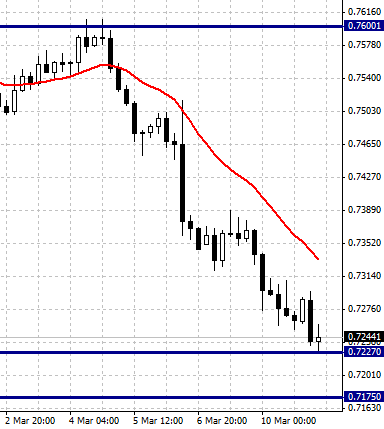 Publication source
---
EXNESS information
EXNESS reviews
December 8, 2016
It seems that everything is clear the ECB will extend its asset-purchasing program, and send the euro lower. But banks smell a rat in this announcement. The ECB should introduce more easing measures...
---
December 8, 2016
The currency market has lost some volume, as traders are closing their positions ahead of Christmas and New Year's celebrations. Investment funds are in no hurry to open new positions; they rather prefer to be actively trading in January...
---
December 7, 2016
The yield of the Italian sovereign debt fell on Tuesday as the focus moved to the political uncertainty on the market. After Renzi's crash on the weekend and the expectations of the ECB measures to deal with the possible fallout of the financial markets...
---