March 13, 2015
---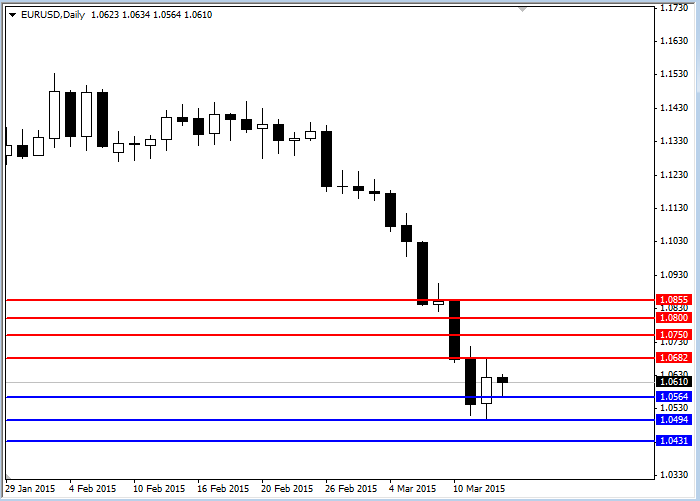 Current trend
EUR/USD regained ground yesterday after a protracted fall. The greenback was under pressure due to US downbeat data. The volume of retail sales reduced by 0.6% instead of growing by 0.5%, as expected. Negative sales dynamics have lasted for 3 months in a row. Last assessment period showed a 0.8% decrease. Analysts are linking the depressive statistics to a longer winter season in the northern states which holds back business activity.
However, EUR/USD failed to really claw back previous losses as the euro is weak due to the ECB's current QE program.
Support and resistance
Resistance levels: 1,0682 (yesterday's maximum), 1.0750 (consolidation zone on 10th March), 1.0800 (important psychological level), 1.1855 (10th March's maximum).
Support levels: 1.0564 (minimum of the Asian session), 1.0494 (yesterday's minimum), 1.0431 (minimum recorded in August 1997).
Trading tips
Go short after a level of 1.0560 has been broken down. Short-term target - 1.0500, main target - 1.0431. Buy from a level of 1.0690 with targets at 1.0750 and 1.0800
Andrey Cherkas
Analyst at LiteForex Investments Limited
Publication source
---
LiteForex information
LiteForex reviews
February 27, 2017
The tone was negative in the oil market on Friday. The price reversed some losses in the night. Buyers returned the benchmark to 56.66 dollars per barrel where Brent caught fresh offers and moved lower...
---
February 27, 2017
On the evening of Tuesday, February 28th, US President Trump is slated to give a major address to a joint session of Congress in lieu of the usual State of the Union address...
---
February 24, 2017
Brent oil prices extended their recovery in the Asian session on Thursday. Buyers led the price higher and broke 56.50 dollars per barrel in the early European morning...
---