March 18, 2015
---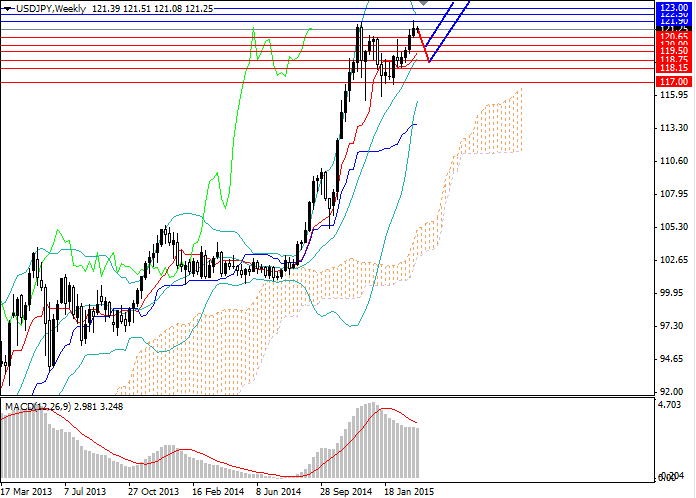 Current trend
The American currency carries on appreciating against all major rivals. USD/JPY reached a key resistance level at 121.80 in the first half of this month but failed to break it down.
US statistics will be the main drivers of today's currency movements. The US will voice the decision on interest rates; the FED will hold a press conference and FOMC members will release a statement. As for tomorrow, Japan will release overall business activity index and the US - statistics for the labour market. The FED will hardly raise the key interest rate, and another promise won't support the American currency any longer. The demand for dollars is very likely to skid and the yen might claw back losses.
Support and resistance
In the medium term, the pair might jump back from the local high and key resistance level at 121.90 and rush downwards to support levels at 120.00, 119.50, 118.75, and 118.15. However, it should be noted that the trend remains upward, therefore being carried away with short positions may be risky. In the medium term, the upward movement is likely to continue with a breakdown of the key resistance at 121.90 and testing of new local highs.
Support levels: 120.65, 120.00, 119.50, 118.75, 118.15, 117.00.
Resistance levels: 121.90, 122.50, 123.00, 123.70.
Trading tips
Short positions should be placed from the key resistance level and local high at 121.90 with short Stop-Loss and Take-Profit at 120.00, 119.50, 118.75, and 118.15. Long positions with profit fixing at 123.00 and 123.70 will be relevant to downward corrections.
Publication source
---
LiteForex information
LiteForex reviews
September 29, 2016
Yesterday decision by OPEC to restrict oil supply has pushed the price of crude higher by some 5%. The move took the markets by surprise, with the divisions between Iran (who are still enjoying their return to global markets)...
---
September 29, 2016
The gold price is down for a second straight day today as investors await a raft of data from the US this week which may decide the question of an interest rate hike...
---
September 29, 2016
Global stocks were chaotic on Tuesday with most equities vibrating between losses and gains as the mixture of anticipation ahead of OPEC - informal meeting and ongoing discussions over the results of the first presidential debate created explosive levels of volatility...
---