18 March, 2015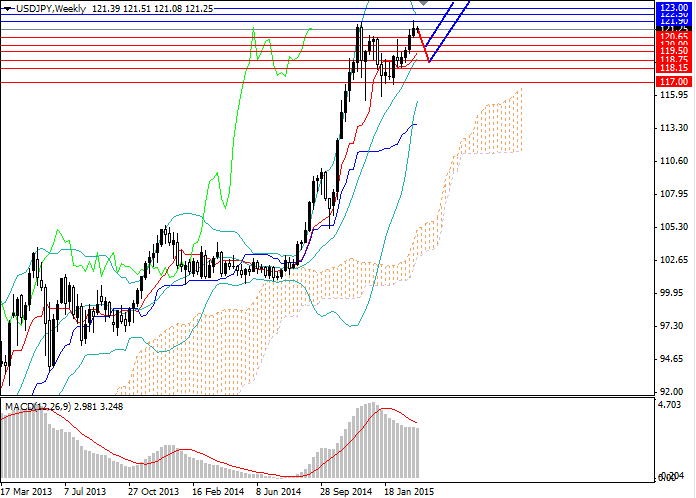 Current trend
The American currency carries on appreciating against all major rivals. USD/JPY reached a key resistance level at 121.80 in the first half of this month but failed to break it down.
US statistics will be the main drivers of today's currency movements. The US will voice the decision on interest rates; the FED will hold a press conference and FOMC members will release a statement. As for tomorrow, Japan will release overall business activity index and the US - statistics for the labour market. The FED will hardly raise the key interest rate, and another promise won't support the American currency any longer. The demand for dollars is very likely to skid and the yen might claw back losses.
Support and resistance
In the medium term, the pair might jump back from the local high and key resistance level at 121.90 and rush downwards to support levels at 120.00, 119.50, 118.75, and 118.15. However, it should be noted that the trend remains upward, therefore being carried away with short positions may be risky. In the medium term, the upward movement is likely to continue with a breakdown of the key resistance at 121.90 and testing of new local highs.
Support levels: 120.65, 120.00, 119.50, 118.75, 118.15, 117.00.
Resistance levels: 121.90, 122.50, 123.00, 123.70.
Trading tips
Short positions should be placed from the key resistance level and local high at 121.90 with short Stop-Loss and Take-Profit at 120.00, 119.50, 118.75, and 118.15. Long positions with profit fixing at 123.00 and 123.70 will be relevant to downward corrections.
---
---