March 20, 2015
---
RBA governor Stevens spoke to the American Chamber of Commerce in Australia today about the prospects for the Australian economy and much more. The Governor was definitely looking on the bright side this time around as he noted the positive developments in the Australian economy and stated that he doesn't believe we will see a repeat of the late 80's/early 90's.
Steven's noted that while China's economy was adjusting to a lower level of growth, it's still a major source of global demand. The fact that it is slowing doesn't mean it won't motivate global growth – the government's growth target this year is 7%, after the economy grew at 7.4% last year. The flow-on effect to Australia is a falling terms of trade which is limiting growth, but shouldn't drag Australia into recession-like conditions.
On the US, the RBA governor admitted that the prospect of the Fed raising interest rates is resulting in some volatility in financial markets. But he also said: "the punch bowl isn't being taken away, its contents are just being made lest potent". While also adding that the recovery of the US economy is going to benefit our economy.
Domestic monetary policy is either expected remain stable or loosen further according to the RBA. This isn't new news, thus the impact of today's statement on the aussie was fairly minimal. AUDUSD is testing resistance around 0.7700 at the time of writing, after spending most of the session regaining some ground it lost yesterday and in the overnight sessions.
Technical look: AUDUSD
There has been a lot of volatility in the FX market following the FOMC's policy meeting earlier in the week. This has sent AUDUSD all over the place as it attempts to find its new middle ground. At present, the pair is testing resistance around 0.7700, a break of which may see price make another run at 0.7800. On the downside, we are watching 0.7590/0.7600.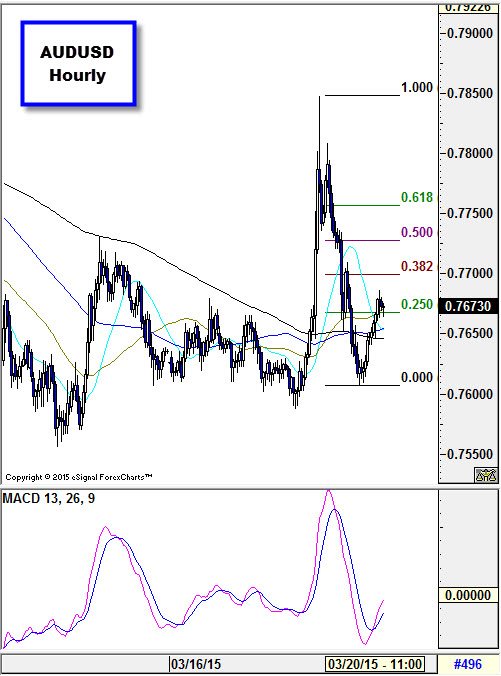 Publication source
---
FOREX.com information
FOREX.com reviews
January 23, 2017
Looking at the daily chart of the Japanese Yen, we can see that the bullish engulfing has formed next to the 50% Fibonacci level, which has been broken on the weekly chart at the points of 125.853 and 98.935...
---
January 23, 2017
President Trump has his feet under the desk in the Oval office and the tone of his inaugural speech and actions over the weekend reiterated his campaign themes to Make America Great Again...
---
January 23, 2017
The FTSE100 is under some selling pressure this morning and trading lower by around 40 points. The leading UK stock index posted its first weekly loss in over a month on Friday and has continued lower out the gate today. The pound is broadly higher on the day and has moved back above the 1.24 handle against the US dollar...
---