March 24, 2015
---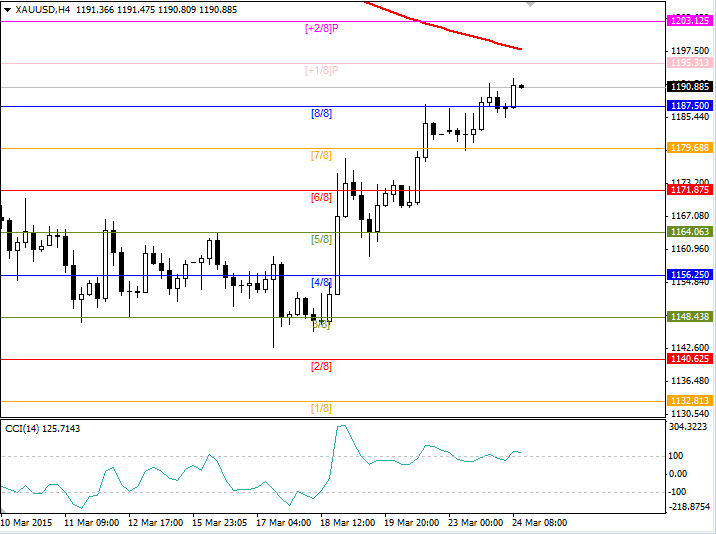 Current trend
Gold quotes continue to rise slowly as Fed failed to provide information on the dates of an interest rate rise at the latest meeting. An important resistance level is at 1200.00 and coincides with M200 moving average. If the price consolidates above it, it may continue to grow to 1250.00-1265.00.
On the whole, as many experts believe, gold remains a perfect asset for increasing money due to low interest rates worldwide. If Asian economies carry on growing, the demand for gold will continue to increase and the price may reach a level of $2000.00 per troy ounce in the next few years. The second factor that could lead to the appreciation of gold in the long term is central banks' desire for buying up the precious metal. Seventy-five tons of gold per year approximately has been bought up in recent years. It's also worth noting that the gold trading centre may move to China. Not all international investors may participate in gold trading due to local restrictions, but experts think that their cancellation is only a matter of time.
Support and resistance
The nearest resistance level is still at 1195.15– 1/8 (1/8 Murray)
The nearest support level is at 1187.50 (8/8 Murray)
Trading tips
Go long after a level of 1195.15 is broken and place protective orders near a level of 1187.00 with a target at 1245.00.
Dmitry Agurbash
Analyst at LiteForex Investments Limited
Publication source
---
LiteForex information
LiteForex reviews
September 27, 2016
Having obsessed about an event that did not happen this month (a Fed tightening), markets now turn to obsessing about an event that will happen, namely a change of US President...
---
September 27, 2016
The oil prices start the week on an upbeat note as the informal OPEC meeting may end with a positive agreement for the oil market, which could resolve in production kerbs and freeze said the Algeria's Energy Minister on Sunday...
---
September 27, 2016
It's been an interesting start to the week as politics is looking likely to take centre stage amongst a market which is becoming increasingly worried over the result of the US presidential election...
---