March 30, 2015
---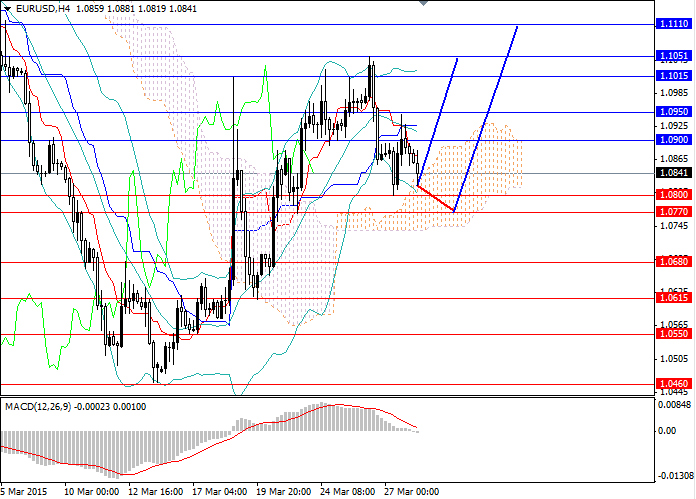 Current trend
Last week, Germany published strong data on key indexes that supported the European currency, and EUR/USD reached the key resistance level and local high at 1.1000. At the end of the last trading week, the American currency re-appreciated against the Euro against a backdrop of positive statistics for US labour market and weak data on the eurozone's loan sector.
The pair is slowly falling today, currently trading at 1.0830. The publication of consumer price indexes for Germany and the eurozone is worth attention today as the indexes are expected to grow. In its turn, the USA will publish data on personal spending and core price index. Positive statistics from the eurozone will increase investors' demand. But the Greek issue remains the key growth catalyst of the EUR/USD: if a new loan agreement is reached in the shortest time, the Euro may start growing in price.
Support and resistance
In the medium term, the pair is expected to rise to a level of 1.1000. Breakdown of the local low will provide a way to the levels of 1.1110 and 1.1245. If US statistics turn out to be upbeat, the pair will consolidate in the sideward range of 1.0800-1.1000. However, the trend is still downward; therefore long positions should be opened carefully with Stop Loss below 1.0770.
Support levels: 1.0800, 1.0770, 1.0680, 1.0615, 1.0550, 1.0460.
Resistance levels: 1.0900, 1.0950, 1.1015, 1.1050, 1.1110, 1.1245.
Trading tips
With an eye to appreciation of the oversold euro, long positions should be opened with a short Stop Loss and profit fixing at 1.1110 and 1.1245.
Dmitry Likhachev
Analyst at LiteForex Investments Limited
Publication source
---
LiteForex information
LiteForex reviews
September 26, 2016
The FED did not raise interest rates last week, as it was anticipated by many market participants. It seems like the FED decided to go with status quo and wait until a new American president is elected. We are waiting for a rate hike to take a place in December as it would be logical and a well justified thing to happen...
---
September 26, 2016
Monday's US presidential debate will probably break a new record, not in the S&P 500, but the number of viewers which according to media analyst could reach over 100 million Americans, surpassing Carter-Reagan debate in 1980 which attracted 80.6 million viewers...
---
September 23, 2016
The market is in need of a new narrative. The Fed meeting in December is too far off and for now, the US election is not something that entices excitement. With central banks on hold, markets are pushing the envelope in terms of risk...
---