30 March, 2015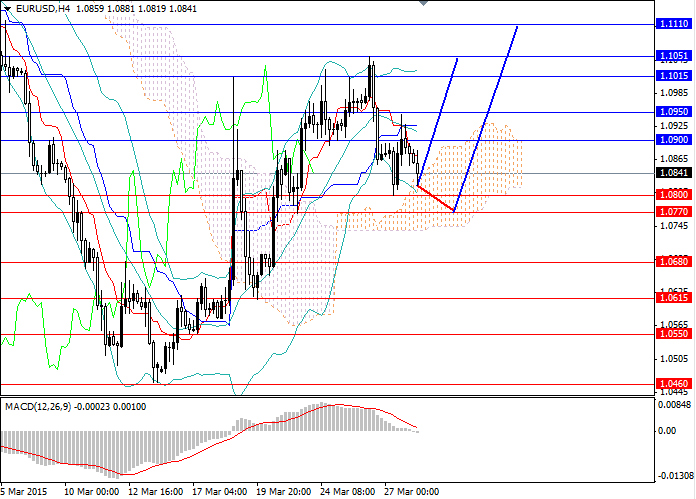 Current trend
Last week, Germany published strong data on key indexes that supported the European currency, and EUR/USD reached the key resistance level and local high at 1.1000. At the end of the last trading week, the American currency re-appreciated against the Euro against a backdrop of positive statistics for US labour market and weak data on the eurozone's loan sector.
The pair is slowly falling today, currently trading at 1.0830. The publication of consumer price indexes for Germany and the eurozone is worth attention today as the indexes are expected to grow. In its turn, the USA will publish data on personal spending and core price index. Positive statistics from the eurozone will increase investors' demand. But the Greek issue remains the key growth catalyst of the EUR/USD: if a new loan agreement is reached in the shortest time, the Euro may start growing in price.
Support and resistance
In the medium term, the pair is expected to rise to a level of 1.1000. Breakdown of the local low will provide a way to the levels of 1.1110 and 1.1245. If US statistics turn out to be upbeat, the pair will consolidate in the sideward range of 1.0800-1.1000. However, the trend is still downward; therefore long positions should be opened carefully with Stop Loss below 1.0770.
Support levels: 1.0800, 1.0770, 1.0680, 1.0615, 1.0550, 1.0460.
Resistance levels: 1.0900, 1.0950, 1.1015, 1.1050, 1.1110, 1.1245.
Trading tips
With an eye to appreciation of the oversold euro, long positions should be opened with a short Stop Loss and profit fixing at 1.1110 and 1.1245.
Dmitry Likhachev
Analyst at LiteForex Investments Limited
---
---