10 April, 2015
At the end of last week it looked like AUDNZD was doomed; the pair was approaching parity at an alarming pace amidst thin trading conditions and fear that the Reserve Bank of Australia would use its dwindling supply of monetary policy ammunition this week. It was not to be however, with AUDNZD pulling up at the last minute on Monday after an assault by bears on Friday failed to secure any ground below parity. The RBA, which had been fuelling the sell-off through the notion of looser monetary policy, decided not to cut interest rates on Tuesday, surprising the broader market. AUDNZD bears had lost their best opportunity to break an all-important support zone around 1.0000.
However, the RBA's decision to hold fire this time around may have only bought AUDNZD some time. The gap between interest rates in NZ and Australia is expected to widen as soon as next month, creating the prefect environment for further AUDNZD weakness and another push towards parity. It's worth noting that the market is already pricing in around a 70% chance of a rate cut in May by the RBA and the general feel in the market is even more bearish (Bloomberg conducted a survey in which all 26 economists predicted the RBA will lower the OCR by 25 basis points next month). While this still leaves room for further AUD downside, we are even more bearish over the longer-term.
Eyes on inflation numbers…
Nonetheless, between now and the first Tuesday of May a lot can happen. On the data front, some very important figures are expected to be released from Australia and New Zealand, as well as from their largest trading partner, China. Both antipodean economies release all-important inflation numbers towards the end of the month as both of their respective central banks keep an even closer eye on domestic consumer activity than usual; stronger or weaker than expected CPI numbers could dramatically change the outlook for interest rates in either country.
What do the techs says?
From a technical perspective, the non-action from the RBA has put the pair into a holding pattern around 1.0200. Some technical weakness that was plaguing AUDNZD prior to the RBA-inspired rally has been erased, and there are even some strong bullish technical indicators that may support price action if it fails to break below parity. On the upside, we are watching 1.0225, 1.0345 and then 1.0545.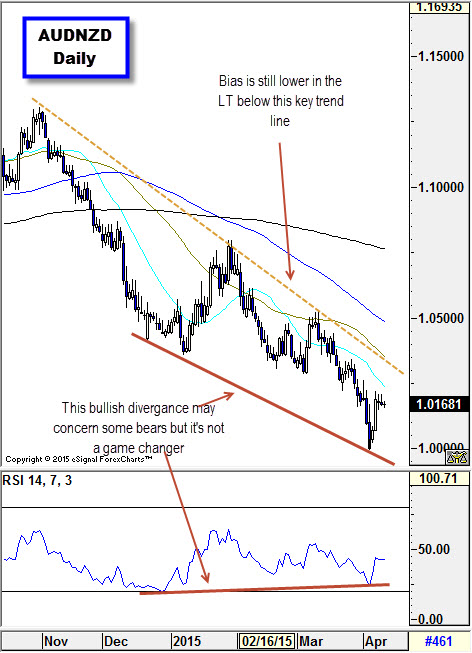 ---
Source link
---
---