17 April, 2015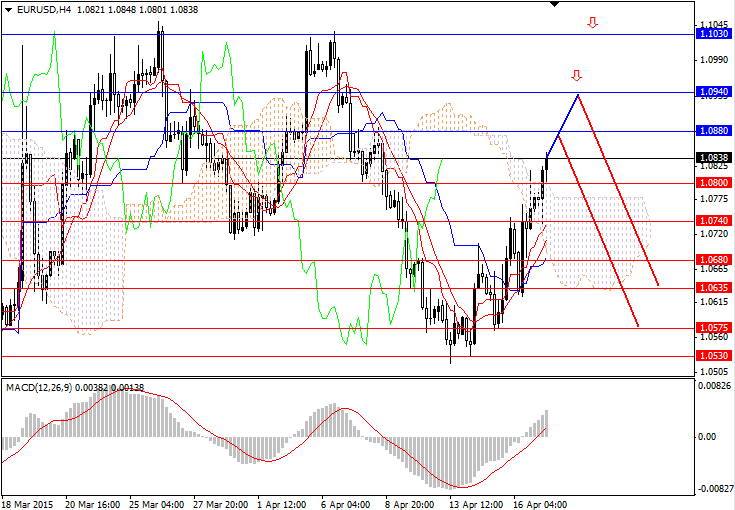 Current trend
Throughout all week, the European currency has been growing against the USD, undergoing deep corrections. The rise in the pair was mainly driven by negative US macro-economic statistics on the main sectors of the US economy. On Monday U.S. negative data on retail sales, key indices, industrial production and labor market became known. Because of the negative impact of the US releases, the pair has not reacted to the statement of the Greek leaders about possibility of default in the country. Demand for the European currency has increased significantly and the pair has grown by over 250 points over this trading week. Currently, European currency is traded at the level of 1.0820 against the USD. Today's meeting of IMF will be of special interest, as situation in Greece will be discussed there. In addition, American consumer price and consumer confidence indices will become known. However, strengthening in the Euro is not possible until financial problems in Greece are not resolved. It means that investors will sell the pair EUR/USD from the key resistance levels. The rise in the pair can be possible only if American statistics continue to be negative.
Support and resistance
In the medium-term upward correction in the pair will slow down and the pair will go down to 1.0635, 1.0575 and 1.0530. Downtrend will continue, therefore, short positions are preferable.
Support levels: 1.0800, 1.0740, 1.0680, 1.0635, 1.0575 and 1.0530, 1.0500.
Resistance levels: 1.0880, 1.0940, 1.1030, 1.1105, 1.1170 and 1.1215.
Trading tips
It is recommended to open short positions at the current price from the key resistance level and take profit at the level of 1.0575.
LiteForex Investment Limited Analytics
---
---