April 20, 2015
---
Sell on a level breakthrough of 0.9492 with 0.9440 target. Stop loss = 0.9540.
Reason for the trading strategy
The growth of the franc against the euro puts pressure on the USD/CHF pair. Investors buy the protective franc due to a possible default of the Greek economy. At a breakthrough of the 0.9492 level, opening short positions for the USD/CHF pair is worth considering
USDCHF, H4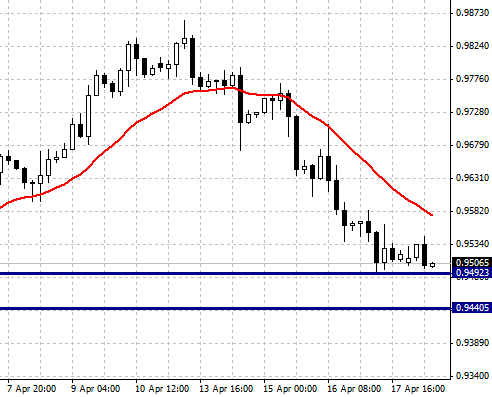 Publication source
---
EXNESS information
EXNESS reviews
September 27, 2016
It's been an interesting start to the week as politics is looking likely to take centre stage amongst a market which is becoming increasingly worried over the result of the US presidential election...
---
September 26, 2016
The FED did not raise interest rates last week, as it was anticipated by many market participants. It seems like the FED decided to go with status quo and wait until a new American president is elected. We are waiting for a rate hike to take a place in December as it would be logical and a well justified thing to happen...
---
September 26, 2016
Monday's US presidential debate will probably break a new record, not in the S&P 500, but the number of viewers which according to media analyst could reach over 100 million Americans, surpassing Carter-Reagan debate in 1980 which attracted 80.6 million viewers...
---