21 April, 2015
The RBA released it minutes from its policy meeting earlier this month when it decided to leave the official cash rate steady at 2.25%. The decision to remain on hold shocked some market participants, but it's clear the RBA believes it can afford to leave the cash rate at an already accommodative level as it waits for more information on the health of the economy. In other words, the bank didn't believe that the benefits of looser monetary policy outweighed the risks to the property market, at least not yet.
Strong employment figures for March and February (revised) have been released since the bank last met, which seem to back-up the bank's decision to remain on hold earlier this month. However, Stevens stated overnight that an interest rate cut cannot be taken off the table at this stage, despite the threat posed by Sydney's property market - a deteriorating outlook for non-mining investment is very concerning as the economy attempts to transition away from being so heavily reliant on mining investment.
The biggest event for the aussie and the RBA of recent times may be the release of Australia's inflation numbers for last quarter, which could dictate the path of monetary in Australia in the near-term. The market is expecting consumer prices to have risen an un-impressive 0.1% in Q1 after rising 0.2% in Q4, bringing headline year-on-year inflation to a measly 1.3%. Core-CPI is expected to increase an encouraging 0.5-0.6% q/q and 2.2-2.3% y/y. This places the RBA's favourite metric for inflation firmly in the bottom half of its 2-3% target range for inflation, which would leave the door open for further monetary policy loosening to support the economy but it definitely wouldn't guarantee an interest rate cut next month. In saying that, a softer than expected core figure – around 2% - would greatly increase the RBA's imputes to loosen monetary policy, diminishing the aussie's attractiveness from a yield perspective.
One to watch: AUDNZD nears parity
AUDNZD is as close it's been to parity since its failed attempt at the beginning of the month. While our long-term bias remains in the red for this pair, it doesn't appear to have the legs right now to push through this very important support zone. It may need the backing of softer than expected inflation numbers tomorrow to breach this all-important level, although this isn't our base case. Below 1.0000 AUDNZD is in uncharted territory and a break may encourage further long-term weakness.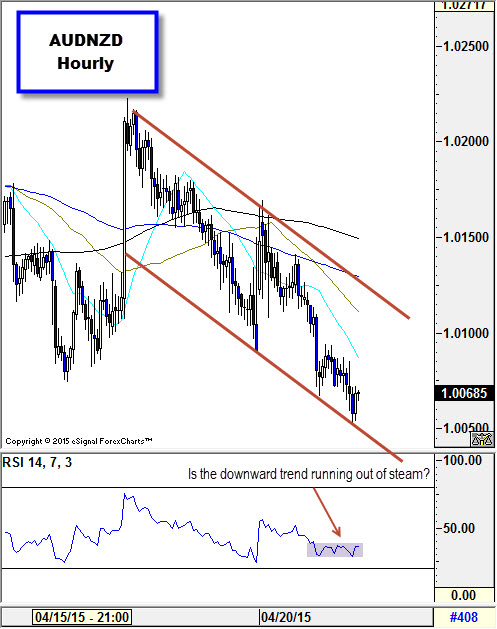 ---
Source link
---
---