23 April, 2015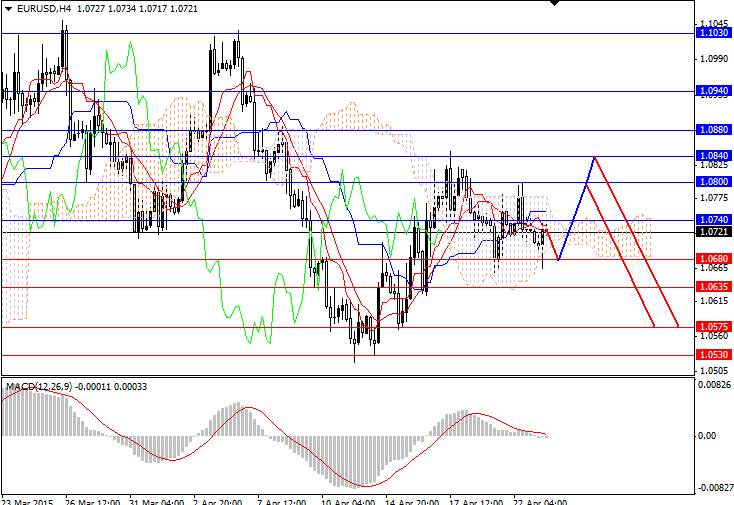 Current trend
This week, the pair continues to move in the narrow range of 1.0800-1.0680. On Monday, the pair went down amid negative data on German producer price index. On Tuesday, European currency managed to win back some losses, going up to 1.0770. Yesterday morning the pair continued to rise and tested the level of 1.0800, however, amid today's poor data on the key indices of France, Germany and Europe as a whole, the pair fell to support level of 1.0680.
Today, attention will be focused on the American labor market. It is unlikely that the pair will go beyond the range of 1.0800-1.0680. It is possible that amid favourable data on the US labor market Euro can reach key support level of 1.0680 against the USD and will continue to trade at this level.
At the meeting of Eurogroup, which will be held tomorrow, decision on the Greek problem will be made. The price of Euro will depend on this decision. Uncertainty in Eurozone deters investors and puts pressure on the pair, making change in trend impossible.
Support and resistance
In the medium-term trend downtrend will continue. Changes in the trend can take place only in case of breakdown of the local highs of 1.0840.
Support levels: 1.0680, 1.0635, 1.0575, 1.0530, 1.0500, 1.0415.
Resistance levels:: 1.0740, 1.0800, 1.0840, 1.0880, 1.0940, 1.1030.
Trading tips
It is recommended to open short positions from the key resistance level and take profit at the levels of 1.0680, 1.0635 and 1.0530.
LiteForex Investment Limited Analytics
---
---