April 27, 2015
---
Buy on a level breakthrough of 1.0900 with 1.1020 target. Stop loss = 1.0840.
Reason for the trading strategy
Last Friday, the weak data on the volume of durable goods orders in the United States were published. In March, the core of the index fell by 0.2% (m/m). The statistics indicates a reduction in business activity in the manufacturing sector of the US economy and puts pressure on the dollar. With regard to Greece, the situation remains the same. The Greek government wants to reach an agreement with its creditors, which would be aimed at stimulating growth, payment of pensions and social benefits, etc., but this does not suit its creditors.
EURUSD, H4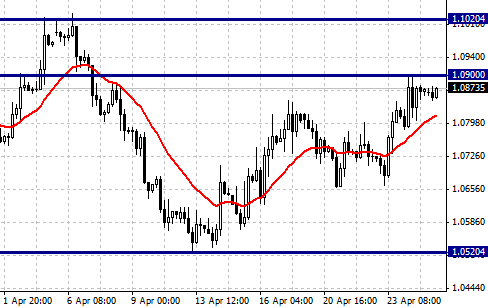 Publication source
---
EXNESS information
EXNESS reviews
December 2, 2016
It's not bee the economy that has been driving the dollar over the past 3 weeks, of that we can be pretty sure. Rather, it's been expectations of tax cuts and spending increases, together with incentives for dollar repatriation under the new President...
---
December 2, 2016
The Oil prices jumped on Wednesday after the organisation members agreed to pare production first time since 2008, to reduce global oversupply, which made the prices collapse by half since mid-2014...
---
December 2, 2016
The latest data on the UK construction sector was released this morning, and will likely be seen as positive overall as the recovery from the Brexit shock appears to be persisting. Despite this the FTSE 100 is under pressure this morning...
---